Government and opposition meet European MPs
By Liana Bezhanishvili
Tuesday, March 30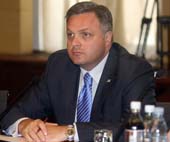 On March 29 the Deputy Chairman of the Socialist Group of the Austrian Parliament, Hannes Swoboda, and Jan Marinus Wiersma MEP, Vice-President of the Socialist Group of the EU Parliament, were hosted by Vice Prime Minister of Georgia and State Minister for European and Euro-Atlantic Integration Giorgi Baramidze.
At their meeting Giorgi Baramidze talked about the occupied territories of Georgia and the harassment of those living there. He also mentioned the necessity of European Union observers being able to enter the occupied regions and the significance of EUMM mission expansion. He then outlined the democratic reforms taking place in the capital and progress in business and investment development. He emphasized the significance of sending observers to the forthcoming local government elections.
Baramidze also discussed the process of Georgia's integration with European structures with the European Social Democrats. He mentioned the significance of the Eastern Partnership, the simplification of the visa regime and the Association Agreement with the European Union and other free trade issues.
"We had very serious and constructive talks about all the issues the Georgian public are interested in. In all the issues the European Union participates very actively," stated Baramidze after the meeting. The European Social Democrats stated that they uphold the sovereignty and territorial integrity of Georgia and Georgia's integration into European structures.
Another meeting held yesterday was at the Tbilisi Marriot Hotel between Georgian opposition leaders and the European Parliament Delegation on Relations with Caucasus Countries. This was attended by leader of the National Forum Kakha Shartava, leader of the Christian Democrats Nika Laliashvili, leader of Defend Georgia Levan Gachechiladze, leader of the Green Party Gia Gachechiladze, leader of Democratic Movement - United Georgia Nino Burjanadze and the Alliance for Georgia's Victor Dolidze. The European Union's Special Representative in the South Caucasus Peter Semneby also attended.
The non-Parliamentary opposition said that the European MPs were very sceptical about the existing situation in Georgia. "After the simulated Imedi TV programme it is logical that the European MPs have lost confidence in the Georgian Government," Nino Burjanadze told journalists after the meeting. Victor Dolidze said that the European MP's expressed disagreement with the Government not accepting a 50 percent threshold for being elected Tbilisi Mayor.