Maybe Georgia was behind the bombings, Russia says
By Gvantsa Gabekhadze
Thursday, April 1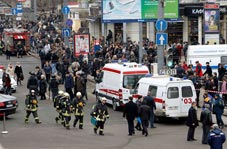 Russia does not exclude the possibility that Georgia had a connection with the 29 March terrorist blasts in the Moscow Metro, said Secretary of Russia's National Security Council Nikolai Patrushev on March 31.
About 40 people were killed and 65 wounded in the bombings. The first blast occurred at the central Lubyanka metro station at 07:56 and the second at Park Kultury at 08:38. They are being treated as suicide bombings and the Russian Government is blaming the Chechens; however the Chechens themselves are accusing the Russian PM Vladimir Putin of killing his own citizens to improve his opinion poll ratings.
"We have information that some Georgian special services personnel have contact with terrorist organisations in the North Caucasus. We have to check this information following the suicide bombings carried out in Moscow. President of Georgia Mikheil Saakashvili is unpredictable, he started a war once and may do it again. Unfortunately a number of countries provide him with assistance, including military assistance, which we maintain is unacceptable," Patrushev said.
This statement has been supported by Russian Deputies. "I have always stated that the threat of terrorism against Russia comes not from Iraq or Afghanistan but from Georgia. I have no doubt that the Georgian Government is giving military assistance to the North Caucasians. We appeal to the United States to use its influence to persuade Mikheil Saakashvili to stop conducting such activities. If the US does not do so, we might cease collaborating with the United States on the Afghanistan issue," member of the Russian Duma Simon Bagdasarov has said.
The Georgian Government has called Patrushev's statement an attempt to discredit Georgia. "The Georgian authorities have always condemned, do condemn and will always condemn terrorism, even if it takes place in our adversary's camp. We hope that instead of pointing fingers, the Russians will actually investigate this matter and find out who was behind these terrorist acts. If they have some evidence pointing to us, let them just state it, we are ready to cooperate. As for the North Caucasus, this is not a problem for Russia alone, as we do not want large scale operations beginning in those regions, which will trigger an influx of refugees into Georgia," Minister of Refugees Temur Iakobashvili stated, adding that it has become a tradition for the Russian Government to blame Georgia for any bad thing which occurs on Russian territory. Deputy Foreign Minister Davit Jalaghania said that this statement has two aims. "The first is that Patrushev and The Kremlin are trying to hide their professional incompetence and the second is that it will justify restricting the freedom of their citizens, repressions of their political rivals, killing thousands of innocent people in the North Caucasus and aggression against neighbouring countries. The international community will not take this statement seriously, as Georgia is actively involved in international anti-terrorist activities," Jalagania stated.
The Georgian opposition consider the Russian allegation extremely dangerous for Georgia's security. "This statement can be discussed only in political terms. The Russian Government might use it to start another war in Georgia. The Christian Democrats appeal to the President of Georgia to call a special Security Council meeting on this issue and to the Foreign Ministry to undertake urgent threat prevention activities with our partner countries and organisations," Nika Laliashvili, from Christian Democratic Movement, said.
Analysts agree that the statement can be considered one more attempt to reduce Georgia's reputation in the eyes of the West and the United States which will not produce any significant result. "It is a Russian custom to shift the blame for its actions onto others. The most important thing Georgia can now do is actively involve itself in investigating this terrorist act as transparently as possible. After concluding its investigation the Georgian Government should present its results publicly," Mamuka Areshidze suggested.
Members of the European Parliament visiting Moscow at the present moment have also commented on Russia's allegation of a possible Georgian connection to the bombings. They stated that making such statements before an investigation has been concluded is not right and Patrushev's suggestion of Georgia involvement is not acceptable for them.