Security Police make children happy
By Messenger Staff
Wednesday, March 31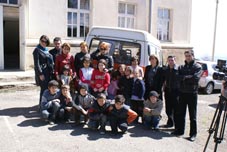 On March 31 the Security Police conducted a charity action called "Easter Gift for Children" to assist and encourage the homeless children in Kojori (a small town some 20 kilometres southwest of Tbilisi) and wish them a Happy Easter.
This is not the first time the Security Police has conducted such an action. In January it gave necessary items and sweets to the children at the House of the Future.
"The Security Police welcomes being able to conduct such events and continually tries to participate in charity actions, as it is very important for these children to feel and understand that the rest of the world loves them and cares about them as well," Anna Arzanova, Head of the Security Police PR Service, told
The Messenger
on Wednesday, adding that the organisation would continue conducting such charity actions in the future.
The Kojori Children's House is home to approximately 62 children aged from 6 to 18. The Security Police contacted the house administration in advance and asked them what kind of items they needed most. The Security Police bought footwear for all the children, sweets and satellite antennas so that the kids can have the opportunity to watch various TV channels and have fun.
"I am very grateful for the Security Police's interest in us and them bringing such nice presents for our little kids. Such events make them so happy and we will be much more excited if other organisations come and encourage them as any kind of support is crucial for us," Head of the Kojori Children's House Roland Abuladze said on March 31.
The Messenger
visited the workshop where children make handmade accessories and produce paintings and other beautiful items. The head of the institution said all these works would be exhibited soon and everyone would have a chance too see how talented these little kids are.
"We are always extremely happy and contented when people come to us and bring us various presents. I want to thank the Security Police for everything and ask them to come to us more frequently," 10-year-old Tamuna told the paper.
The Security Police plans to conduct similar events in the future too.