Georgia concerned by Russian patrol boats at coastline
By Mzia Kupunia
Tuesday, April 6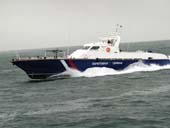 The appearance of Russian patrol boats in Georgia's territorial waters "contains danger", the Georgian Foreign Ministry said on Monday. Speaking at a traditional press briefing, Deputy Foreign Minister Nino Kalandadze said that "considering that international observers have limited access to Georgia's occupied regions, all these kinds of actions are dangerous." However the Deputy Minister noted that currently there is no danger for the Georgian population.
Georgian TV channel
Rustavi 2
had reported earlier on Monday that a Russian patrol boat had entered Georgian territory about 130 metres from the village of Ganmukhuri at the administrative border with Abkhazia. The TV channel reported that the patrol boat stayed close to the Georgian border for about 5 minutes, did some manoeuvres and left in the direction of the village of Pichori. The boat was armed with grenade launchers,
Rustavi 2
reported. The boat was accompanied with two other patrol boats about 300 metres from the coastline, according to the Georgian media.
The entrance of the patrol boat was preceded by manoeuvres by Russian helicopters. According to Georgian officials this is the second case of Russian patrol boats entering Georgia's territorial waters. The Georgian Foreign Ministry will "do everything" to avoid any threat to the country, Nino Kalandadze said at yesterday's briefing. "The Foreign Ministry is working actively with all the representations which can take security measures," she stated.
The Georgian MFA has notified the International Marine Organisation (IMO) about the "illegal" entry of Russian boats into the Abkhazian section of Georgia's waters without the permission of the Georgian Government, RIA Novosti has reported. The Georgian side has stated that it will take sanctions in the case of "illegal" actions, the news agency wrote. "In the abovementioned notification the Georgian Foreign Ministry requested the IMO to inform all its members about the inadmissibility of sailing in Abkhazia (Georgia),"
RIA Novosti
quoted MFA officials as saying. "It was stressed in the notification that Abkhazia is an integral part of Georgia currently under Russian occupation. The territorial integrity of Georgia is recognised by the international community," the Foreign Ministry said.
Meanwhile de facto officials of Georgia's other breakaway region of South Ossetia claim that Georgian law enforcers still have 30 South Ossetian "citizens" in detention. "Some of them are those declared missing by the Georgian Government," David Sanakoev, representative of the de facto South Ossetian President on human rights, said. The Georgian Interior Ministry denied the allegations. "Currently the Georgian side has no South Ossetian detainees," spokesman of the Interior Ministry Shota Utiashvili said. "We have handed over all detainees to the Ossetian side. The accusations of the Ossetian separatists are unacceptable and untrue," Utiashvili stated.