Patriarch stresses unity in Paschal Epistle
By Salome Modebadze
Tuesday, April 3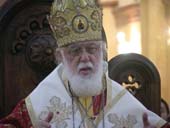 After the 50 days of Lent and Holy Week the Georgian Orthodox Church celebrated Easter on April 4. Gathered at their churches for the special festive liturgy at 11 p.m. the Georgian faithful met this wonderful event with tears. The Catholicos-Patriarch of All Georgia, Ilia the Second, conducted the divine service at Holy Trinity Cathedral, where he congratulated the Orthodox faithful on the day.
His Holiness and Beatitude dedicated a special paragraph of his traditional Paschal Epistle to the importance of the territorial integrity of the country. "I suppose that the establishment of diplomatic relations with our neighbours and the rest of world would be a peaceful solution to our problems. I think it is necessary to conduct negotiations with the people of Abkhazia and Ossetia in order to restore their trust in us. We are all involved in the globalisation process and we will all have to live together, so they should take this into consideration. I can't predict what their attitude to this appeal will be but this is the only way they themselves can survive. It will be really difficult to resolve this problem without their engagement, especially as this conflict was the result of a discord between international actors. But I let everyone know that Georgia has no higher value than unity," said Ilia the Second.
"I am full of hope and I trust that Georgia will be reunited. Anything impossible for people is possible with God. Let's become churches of God and find Jesus Christ in our heart. Christ has risen, God bless you all," said Ilia the Second in his Epistle.
The issue of prisoners and the sick was also highlighted. His Holiness appealed to the Government of Georgia to take care of these people and defend their rights. "God compares Himself with both prisoners and the sick, saying that anyone who supports them is supporting Him. Let us all help these people in need at least once a week through our prayers. I would like to ask the Government to discuss the cases of those prisoners arrested for minor crimes and ease their lives. All these people need rehabilitation from the past, they need to communicate with their families and feel they are part of society. It's also the moral obligation of the Government to ensure that the medical service is free of charge in our country so that no one will die due to lack of financial sources for their treatment."
Patriarch Ilia called his epistle the Epistle of Freedom, stressing the importance of using this, God blessed gift, in a very proper way in order to avoid committing any sin resulting from pride. He stressed that people should no longer wear a yoke of slavery as Jesus Christ has made us free. "Jesus Christ has united people of different social backgrounds in the name of love. The church is a free people's union. Jesus Christ said that His followers were His friends, washed their feet and let them call God their Father. The Church has been the most important basis for cultural development and ethnic relations among nations. Defence of the Faith has become defence of the state in Georgia, which has been the priority of the whole nation in any age. Unfortunately not everyone has dealt with temptation and some have bowed to the conquerors, but this fact demonstrates that each person and nation chooses which path to follow in life. The Georgian people made their choice long ago and are still strictly adhering to it," said the Patriarch in his Epistle.