Georgia speaks in tongues
By Messenger Staff
Thursday, April 8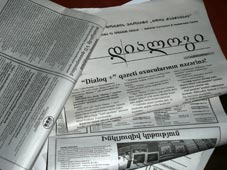 On the initiative of the Ministry of Education and Science of Georgia a project called Ilia Chavchavadze was launched last year at the National Curriculum and Assessment Centre. On a monthly basis a supplement to Multilingual Education newspaper called Dialogue is published in three languages, Georgian, Armenian and Azerbaijani. The aim of this project is to improve Georgian language studies in the regions of Georgia where the population is of Armenian or Azeri origin.
During the Soviet period due attention was not paid to educating this population in Georgian because the common language of inter-ethnic communication was Russian, which was obligatory throughout the Soviet Union. However new realities have created new demands. Georgian people of non-Georgian descent, such as Armenians and Azeri, have an urgent need to receive a basic education in the Georgian language. They need to integrate with the local population, read official documents and study in Georgian universities and schools. Therefore the Ministry of Education of Georgia has launched this project, which is a modest but quite substantial initial contribution to providing this education.
Dialogue provides its readers with educational materials, official documentation, practical advices and further applied materials. It gives the Georgian population of non-Georgian origin basic information on the multilingual policy of the Ministry. It also publishes the opinions of different people, scholars, representatives of the clergy, and ordinary citizens, on the necessity of supporting such a project.
Its publishers have informed
The Messenger
that the supplement is very much appreciated by the locals living in the regions populated by people of Armenian and Azeri origin. Such initiatives should be encouraged, supported and created and there should be more materials of this type available.
Those interested can visit the Dialogue webpage, www.ganatleba.org or email dialog@ganatleba.org