Obama thanks Saakashvili for Afghan mission contribution
By Mzia Kupunia
Thursday, April 8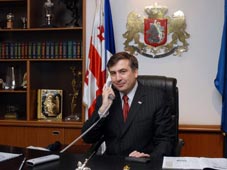 Georgian President Mikheil Saakashvili and his US counterpart Barack Obama held a phone conversation late on Tuesday, the Georgian President's administration said. Obama thanked Saakashvili for Georgia's contribution to the Afghan peacekeeping operation, news agency Reuters reported, based on the information released by the White House.
"President Obama called Georgian President Saakashvili today to thank him for Georgia's significant contribution to the international effort in Afghanistan, as the Georgian battalion deploys this month alongside American Marines in Helmand," the White House statement reads. "The President relayed the strong support of the United States for Georgia's sovereignty and territorial integrity," the White House wrote.
The upcoming Nuclear Security Summit in Washington, the US-Georgia Strategic Partnership, regional security and the ongoing reforms in Georgia were discussed during the conversation, President Saakashvili's administration has reported. Saakashvili thanked Obama for inviting him to the Nuclear Security Summit, the administration stated. "Both Presidents share a deep commitment to international cooperation in fighting nuclear proliferation," the statement reads.
According to Saakashvili's administration the Presidents discussed issues of regional security. "President Obama reiterated his full support for Georgia's territorial integrity and sovereignty," the administration reported. "President Saakashvili thanked President Obama for America's continued assistance in helping build an enduring liberal democracy in Georgia," the statement reads. "Both Presidents reaffirmed that a stable and democratic Georgia was a key to regional peace, cooperation and progress," it continues.
Meanwhile a 750-strong battalion of the Georgian Armed Forces left for Afghanistan on Wednesday afternoon. The Georgian Defence Ministry reported that the Georgian soldiers will take part in the NATO-led ISAF peace support mission in the province of Helmand. "The Georgian peace contingent will start fulfilling its mission while integrated with the US batallion," the Defence Ministry Press Service said. Minister of Defence Bacho Akhalaia, Chief of the Joint Staff Major General Devi Chankotadze and other top military officials attended the farewell ceremony at the Vaziani military base yesterday.
The 31st battalion of the Georgian Armed Forces has undergone an intensive 6-month preparation course for participation in the international peacekeeping mission in Afghanistan, the Defence Ministry stated. "Georgian servicemen have been through intensive tactical preparation under the guidance of the Training and Advisory Group of the US Marines. During this they were given the opportunity to develop skills in conducting protection, search, evacuation, convoy and cordon operations. They were also given lessons in communication with both the leadership and community," the MOD statement reads. Georgia previously sent a company of 172 soldiers to Afghanistan on November 16, 2009.