Georgia builds bridge to Europe
By Etuna Tsotniashvili
Friday, April 9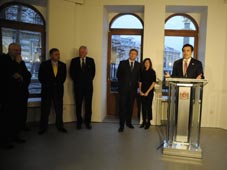 President Saakashvili has stated that his major task is to ensure that Georgian citizens can enter Europe without visas before his term expires. "Free movement and a free trade regime with Europe are achievable. We are now undertaking bureaucratic procedures to introduce these measures and we will accomplish this," the President stated at the opening ceremony of Europe House on April 7.
Georgia has already negotiated visa facilitation and readmission agreements with the EU. These will be signed and implemented after they have gone through the EU's internal decision-making processes, which they are presently doing. .
Saakashvili stated that despite the serious threat from the Russian Federation Georgia has not changed its European orientation and Georgia becoming a modern European state remains the aim. "We have built Europe House in the most central location in Tbilisi [Freedom Square]. We are not only building a bridge over the River Mtkvari but between Georgia and the rest of Europe," Saakashvili said.
European Commissioner for Enlargement and European Neighbourhood Policy Stefan Fule, who is visiting Georgia, thanked the European Union for its participation in the Europe House opening and added that the new facility will promote cultural exchange between Georgia and Europe. "The young generation will be introduced to European history and European culture," Fule stated at the ceremony, adding that Europe House will give Georgians integration opportunities.
Europe House aims to establish a consistent presence for European cultural, educational, civic and business institutions in Georgia by deepening people-to people connections. It serves as a platform for independent discussion and aims to bring social innovation to Georgian though culture and open dialogue.