Tbilisi condemns joint Russian military base treaty
By Mzia Kupunia
Friday, April 9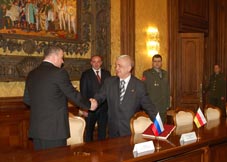 Russia and the de facto Republic of South Ossetia signed an agreement on Wednesday on establishing a joint Russian military base in Georgia's breakaway region. The treaty will be in force for the next 49 years, according to de facto officials, and states that it will be automatically extended for the next 15 as soon as it expires. Moscow signed a similar document with the de facto Abkhazian Government on February 17, 2010.
With the signing of the treaty creating a Russian military base in the "Republic of South Ossetia", Moscow has "taken full responsibility" to defend this "state", Russian Defence Minister Anatoly Serdyukov said on April 7. "Starting from today the status of our military base [in South Ossetia] changes. And of course, Russia takes full responsibility to defend South Ossetia," Serdyukov said after signing the abovementioned document. "During today's meeting we discussed a number of important issues of our military-technical cooperation, as well as the preparation of military staff," he added. De facto South Ossetian Defence Minister Yuriy Anaev stated that "this agreement will guarantee the development of our country".
The Georgian Foreign Ministry has expressed its protest at the signing of the document. In a statement released on Thursday the Ministry said that "such actions" only help "destabilise" the situation in the region. "This creates a basis for Russia and the puppet regimes to stage continual provocations," the statement reads. "Instead of meeting its international obligations, Russia strengthens its military presence on Georgia's occupied territories and is trying to quasi-legitimise the process of setting up military bases for its occupation troops," it continues.
The Georgian side accused Moscow of violating international legislation by signing the treaty with the de facto Republic. "Russia is demonstrably ignoring its commitments undertaken in the ceasefire agreement," the Foreign Ministry said. Tbilisi says any treaty signed between an "occupying state and puppet regimes it has created has no legal force and is annulled." The Georgian Foreign Ministry expressed "strict protest" against Russia's "destructive" actions and called on the international community to "adequately assess Moscow's illegal actions, which endanger peace and stability in the region."
Analyst in conflict issues Gocha Gvaramia shared the position of Georgian officials, saying that the documents signed with Georgia's breakaway regions are not legitimate. "They are aimed for internal use between Russia and so-called South Ossetia. Moscow is simply trying to at some point legitimise its military presence in the region," Gvaramia told The Messenger. He said that this implies a danger for Georgia. "The document could give Russia a chance to start deploying unlimited numbers of troops and military equipment in the Tskhinvali region. Bearing in mind the latest statements of de facto South Ossetian leader Eduard Kokoity that Truso Gorge used to belong to Ossetia and the fact that officials in Russia have redirected the blame for the Moscow terrorist attacks onto Georgia, there is a threat of new military provocations," Gvaramia noted.