"The Path to a Free and Fair Election in Tbilisi"
By Mayor Gigi Ugulava
Tuesday, April 13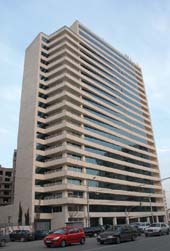 This year Tbilisi will make history, as we hold our first-ever direct election for mayor. The change is important not just for Tbilisi, but for all of Georgia. It is another step forward in the country's democratic progress. It means that nearly a quarter of the country's population will have a more direct say in local affairs. The direct mayoral election can encourage people to get more involved in efforts to make Tbilisi a great regional and international center of culture, commerce, finance, and tourism.
I believe this direct election will offer an important opportunity for a wide range of candidates to offer their differing visions for Tbilisi's future. But to get the full benefits of this direct election, people also need to have strong confidence that the election is conducted in a way that is free and fair. I am personally committed as Tbilisi's mayor to doing everything possible to ensure this campaign and election set new standards for openness, transparency, and public confidence.
Along with the President and Parliament, we have taken major steps toward that goal. Fulfilling a promise he made to the nation in July, last year President Saakashvili agreed with the opposition parties on a new consensus method for selecting the chairman of the Central Election Commission. In January, the President and Parliament selected a new chairman, Zurab Kharatishvili, using that process. Mr. Kharatishvili has launched a new effort to clean the electoral lists in Tbilisi and across the country, even providing financial resources to the opposition parties to help with this work.
In February, the Public Broadcaster launched its new "Channel 2," which is providing extensive air time for the opposition, in addition to coverage of the Parliament. This will help ensure that all candidates and parties running in our May election can reach the public with their messages. In addition, I have welcomed the idea of a first-ever televised debate among the candidates for Mayor, which will provide a direct way for the voters to evaluate the range of people vying for this office.
Georgia will also welcome hundreds of foreign election observers in May, as we have in past elections, to provide an independent assessment of the voting.
Despite these and other steps, some observers – including a recent report by Transparency International (TI) Georgia – have criticized the way my city administration is doing its work and carrying out certain programs, and suggested our actions have electoral motives. I welcome the scrutiny from this group and others. But it is important that discussions of these issues be based on accurate facts.
Unfortunately, TI's report contains factual errors and shows a misunderstanding of our budget process. For example, TI claims that 410 staff were added to the Mayor's Office in 2010, but this is not the case. TI classifies many staff as "new" to the Mayor's Office when in reality they work in other departments or capacities such as the Architect Service.
Additionally, due to a change in law, many contract employees who have worked for the city in the past are now classified as staff. TI erroneously classifies these individuals as new hires.
TI also asserts that certain social programs, such as the city's pension payments or transport discount cards for the elderly, are illegal. Not only are they completely legal, they also operated in previous years – including non-election years.
Contrary to the impression given by the TI report, every tetri of the city's spending complies with the national law designed to prevent administrative resources being used for political purposes. That law requires any city spending in an election year to be approved during the previous year by the city council. We have done that. Every program TI mentions was evaluated and approved by the city council during budget deliberations in 2009.
I am adamant that city administrative resources not be used for electoral purposes, and I have stressed this across city hall. But I also am adamant about doing my job as mayor. I reject what seems to be an implication of the TI report – that it is somehow improper for a mayor to take care of the needs of his people or to carry out any popular initiative, just because it is an election year. Should we suspend pensions, stop bus service, cancel garbage pickup, and shut down the kindergartens whenever there is an election approaching, just because those efforts are popular? That would be a very odd notion of democracy.
The fact is, mayors all over the world, including in the most democratic states, do their best to take care of the needs of their cities' residents, right up through Election Day. When Michael Bloomberg ran for re-election as Mayor of New York City last year, he touted a new program to retrain and place city residents into jobs, he started work on a new police station, and he launched a new plan to improve the city's subways and buses. Nobody called that "administrative resources." They called it "doing the job of mayor."
Are there advantages to competing for elective office as an incumbent? Of course. But there are also disadvantages. People hold incumbents accountable for their records. If there are bad streets, or dirty playgrounds, or broken buses – all those become reasons to vote against the incumbent. Particularly after an intensely difficult economic period, being the incumbent is a mixed blessing.
The mayoral campaign period began this month, and I will make a formal announcement about my candidacy in the coming weeks. Right now, my focus is simply on doing all I can to make Tbilisi a better city – to improve services, expand employment, and make our historic city shine. I am also doing all I can to ensure the election in May is free and fair. I see no contradiction between the two. Democracy is about openly and responsibly responding to the people's needs. And that is what I am trying to do.