Another new opposition alliance forms
By Salome Modebadze
Tuesday, April 13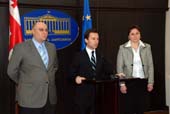 On April 12 the Christian-Democratic Movement (CDM), We Ourselves and the Christian- Democratic People's Party held consultations on forming an electoral alliance for the upcoming municipal polls on May 30. Doing this would enable it to present a joint list of candidates to the CEC.
MP and leader of the CDM Giorgi Targamadze stated that ensuring the sensible use of human and financial resources is the most important issue for the three prospective allies, especially during the election campaign. He said that it was not difficult to establish this alliance as all three parties had the same values and the same views on the country's development. "The political organisation chaired by Paata Davitaia, Deputy Chairman of Parliament (We Ourselves) has been dealing with the IDPs issue for ages, and our cooperation is a logical consequence of this, especially after our experience of cooperation in Parliament," Targamadze said at the joint briefing, stressing that the welfare of IDPs remains among the most burning issues for the country. "We Ourselves will actively engage in work on this. This is what we call having a sense of responsibility. We try to cooperate with other parties on defending the rights of IDPs and other social issues," he added.
Paata Davitaia highlighted the importance of cooperation between parties during the election campaign in order to ensure that a high number of opposition members are elected. "We have the same attitude towards what is going on in our country, therefore our consultations aim at establishing a joint list for the local government elections," explained Magda Kotrikadze, leader of the Christian-Democratic People's Party.
The Messenger
asked political analyst Ramaz Sakvarelidze to identify the positive and negative aspects of such cooperation between parties for the upcoming local elections. "Any kind of cooperation is definitely a positive thing and I fully welcome such decisions. But as far as I know these three parties have different ratings. The CDM is much stronger than the other two, thus ensuring fair distribution of positions within the block will be the most important issue," Sakvarelidze said. "The problem of IDPs affects almost all regions as they have been settled in many parts of the country. Living conditions, communal taxes, unemployment are among the main problems of IDPs and it's the parties' responsibility to work out how to deal with them," he added.
Members of the newly established political block said they will continue conducting internal negotiations in order to identify candidates for each first-past-the-post seat, whom they intend to introduce to the public in a week's time.