Public spat may spell the end for Prime Minister
By Gvantsa Gabekhadze
Wednesday, April 14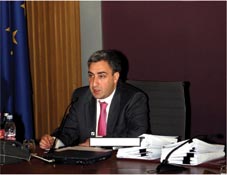 The strong comments made by Levan Varshalomidze, head of the Adjaran regional Government, to Georgian Prime Minister Nika Gilauri may be a signal that Gilauri is about to be replaced, some Georgian analysts stated on April 13, after Levan Varshalomidze's 12 April briefing concerning his attempts to gain more power for the autonomous region's executive.
Varshalomidze had said that, "The Adjara Government cannot do even the simplest technical thing without confirmation from some bureaucrats in the central Government, which is absolutely inacceptable and negatively affects the region's development. I have been sending letters to the Prime Minister of Georgia about this since July 2009 but have received no response so far. It seems that letters with my signature on are not good enough for him." Niko Mchedlishvili, head of the Prime Minister's Press Service, responded on the same day by saying that "the Prime Minister has already instructed different Government institutions to address this matter. The Cabinet will meet Varshalomidze, presumably on April 14 at the Government sitting, and this will be discussed and an adequate outcome identified." However, it later became known that Gilauri will not be attending the Government sitting.
Following these comments Irakli Sesiashvili stated that "I cannot exclude that Varshalomidze's statement indicates that the replacement of Gilauri is planned. Fellow National Movement members do not confront each other in public unless some agreement has been made within the party. When Varshalomidze makes such statements and accuses the Prime Minister this means the ruling forces approve this action, therefore Gilauri might be replaced." However Gia Khukhashvili told
Messenger
on April 13 that "I do not think that such statements need to be made in order to get rid of Gilauri. If the Government members want to replace him they will just do it, without any preliminaries, and Gilauri will have to just accept this. Such confrontations are very frequent in the fight to gain spheres of influence within a ruling party. As for the content of the statement itself, Varshalomidze's appeal to the central Government can be considered just, as the rights of an autonomous region should be greater than those of other Georgian regions and they should be able to do certain things by themselves," Khukhashvili said.
Petre Mamradze, from the Movement for Fair Georgia and the National Council (consisting of the Conservative Party, People's Party, Movement for Fair Georgia, Christian Georgia, Party of the Future and Patriot's Party,) told
The Messenger
that the Government is capable of anything. "It is obvious that holding effective power within the present Government depends not on the importance of the post you hold but how close you are to the President. I am experienced in politics and can say that Gilauri and Parliament Speaker Davit Bakradze have less influence in the present Government than some of Interior Minister Vano Merabishvili's deputies. It is very difficult to count how many Ministers have been replaced since the Rose Revolution in Georgia, and I will not be surprised if tomorrow this Government replaces the Prime Minister with some unimaginable figure, although such behaviour is absolute nonsense," Mamradze said.