OSCE election observers arrive in Georgia
By Ernest Petrosyan
Monday, April 19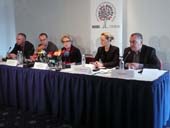 On April 16 the OSCE's Office for Democratic Institutions and Human Rights [ODIHR] officially launched its observer mission for the Georgian municipal elections to be held on 30 May. The ODIHR mission will observe the opening of the polling stations, the voting process, the counting of ballots, the tabulation of the results and the aftermath of the elections.
The OSCE observer mission contains 16 experts and 24 long-term observers, who will write the final report on the elections. In addition ODIHR has requested 350 short-term observers from OSCE participant States to be deployed prior to election day. These observers will simply monitor the poll itself.
This is the ninth observer mission the OSCE has sent to Georgia. "The upcoming municipal elections will be an important test of Georgia's continued commitment to holding democratic elections in line with its OSCE commitments. We welcome the opportunity to observe these elections and hope that progress will be made in implementing our previous recommendations, including those with regard to the clear separation of party and state. We will observe issues such as media coverage of the election process, the use of administrative resources and whether all the candidates have an opportunity to conduct their campaigns in equal conditions," stated head of the mission Ambassador Audrey Glover from the United Kingdom.
The mission will also assess the electoral process's compliance with other international standards and national legislation, the legislative framework for the elections and its application, the performance of the elections administration and the relevant government bodies and the resolution of election-related disputes. Ambassador Glover added that two intermediate reports will be published followed by a final report two months after the election.
Later on April 16 Ambassador Glover held a meeting with Georgian Deputy Minister David Jalagania. In the next few days members of the mission are planning to meet the Chairman of the Central Election Committee, the leaders of political parties and non-governmental organisations.
"I welcome the OSCE observers' involvement in the municipal elections, nevertheless, this cannot be a complete guarantee that the elections will be held objectively and impartially," political analyst Zurab Abashidze told
The Messenger
. He added that it is very important for Georgian to hold fair elections or public distrust of the election process will increase. Fair elections would also lead to fewer disputes between opposition parties and the authorities, he said.