Gachechiladze will not stand after all
By Gvantsa Gabekhadze
Monday, April 19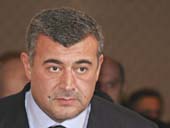 Leader of Defend Georgia Levan Gachechiladze has finally decided not to stand for Tbilisi Mayor. He made an official statement on this on April 16.
"Without a common opposition candidate for Tbilisi Mayor being nominated fighting for this post is absolutely pointless. When there is a hopeless situation in the country, when national institutions have been destroyed, when Georgian state property has been sold off, when business is being terrorised, when unemployment is increasing throughout the country, when Georgian science, medicine, culture and sport are in a bad condition, when a lost war can be considered won, when a violent fight against the Georgian Church is going on, when the media has been turned into a weapon of slander, the Georgian opposition has been unable to understand that Georgia has only one enemy, the regime created by Saakashvili, Merabishvili, Ugulava and some others," Gachechiladze stated.
The Defend Georgia leader added that in this situation it is the duty of all Georgians to unite against the Government in any form of political process, whether it be elections or street rallies. "I have put all my energy into fighting for opposition unification, but unfortunately I have not been able to manage this. This is why I have decided not to be a candidate for Tbilisi Mayor. However I will continue to fight against the present political regime. This Government should be replaced by means of democratic elections, but if these elections are falsified street rallies should not be excluded. However if Zviad Dzidziguri (the National Council's Mayoral candidate), Irakli Alasania (the Alliance for Georgia's candidate) and Gogi Topadze (Industry Will Save Georgia's candidate) manage to agree among themselves who should stand down and who should be the single candidate I will support the selected one," Gachechiladze said.
Gogi Topadze responded to Gachechiladze's decision by saying, "Levan Gachechiladze is an experienced politician, and it seems he thinks this is the best decision in the present situation. As for the suggestion that I, Zviad Dzidziguri and Irakli Alasania should agree which of us should be the common candidate I am ready for negotiations. I believe all influential opposition parties should convene and discuss the present situation and agree on the common candidate without giving ultimatums by saying that this candidate is the best and you must support him. This decision should be made by mutual agreement," Topadze said.
"I agree with Gachechiladze's appeal that we should agree on a common opposition candidate for Tbilisi Mayor and advise the opposition leaders to unite around Irakli Alasania, as he has the highest rating among opposition candidates. As for Gachechiladze's decision not to stand, the Georgian public should evaluate this and not me," Mamuka Katsitadze from the Alliance for Georgia said.
Analyst Gia Khukhashvli, who has frequently told
The Messenger
that it would be better for Gachechiladze not to raise his candidacy, said that "by making this decision Gachechiladze will prove one more time that all his activities are motivated by patriotism and not any kind of personal goal." Analyst Ramaz Sakvarelidze told us, "in the present circumstances Levan Gachechiladze's decision can be considered right. He has done his best to achieve opposition unification, but as this attempt has proved fruitless if Gachechiladze had stood this would have split the opposition vote further."