Georgia will never surrender, Saakashvili says in Washington
By Mzia Kupunia
Monday, April 19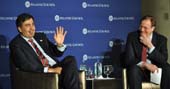 Georgian President Mikheil Saakashvili gave a speech at the Atlantic Council in Washington DC on April 16 in which he outlined the challenges facing Georgia and the reforms going on in the country.
Georgia had no authority in the international arena a few years ago, Saakashvili said. "This was a country where the police were corrupt and the people felt the results of the corruption. This was a country of darkness, where the population of the capital had electricity for only five hours a day. This was a country which couldn't meet any challenge, but overcoming these problems became our mission," he stated.
Saakashvili spoke about the Rose Revolution, through which he came to power in 2004. "The Rose Revolution was not only the waving of flags. This was a time of real change for real action. It was unimaginable that in a region where corruption and criminality flourish democracy could develop. This was a colossal task undertaken in order to develop a new Georgian society," he said.
Despite the "critical impact" of the global economic crisis on Georgia the construction process did not stop in the country, the President stated. "We have come through a tough period of time, but we have still managed to be leaders in doing business. This is our achievement. According to EBRD research Georgia's indicators have improved in several directions and Russia's have gone down as a rule," he said. "We build 24 hours a day in Georgia. In 2005 Russia turned off our natural gas. Now we export energy resources to neighbouring countries. The military confrontation which took place aimed to nullify this mission and destroy Georgia's statehood," Saakashvili added.
The President touched upon the protest rallies in Tbilisi in Spring-Summer 2009. "There was absolute order in the city even when the major streets were blocked and the work of the Government was paralyzed because of the ongoing protest rallies for three months last year. I couldn't enter the Chancellery because some 30 people had paralyzed it. But it was their right to be there," Saakashvili said. "When the Russian tanks stand quite close to your capital and you calmly meet such protests, this is a real expression of development. We intend to create such a state as has never existed in this region," he added.
The President stressed the importance of education reform. He said that years ago the education system was a "source of making money." "Now educated young people can have their place in the new educational system," Saakashvili noted.
The President said that he understands "pretty well that this is not enough." "Georgia is the country of a booming economy, high public trust in the police and a high degree of freedom," Saakashvili said at the Atlantic Council "This is the country of real values that continues to build and develop. I think Georgia is the only post-Soviet country which has managed to remove everything Soviet from its life. These changes will not affect people only during my term of Presidency, they will transform every Georgian's life forever. Georgia continues to develop and it will never return to its previous indicators, it will never surrender," the President stated.