CEC outlines latest amendments to voters lists
By Ernest Petrosyan
Tuesday, April 20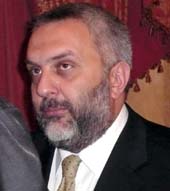 Chairman of the Central Election Commission (CEC), Zurab Kharatishvili presented the results of the monitoring of the voters lists and the amendments thus made to members of diplomatic missions, NGOs and the media at the Courtyard Marriott Hotel on April 19. He said that opposition parties had been involved in this process for the first time this year and been granted the necessary funding to do.
The opposition parties' close cooperation with the CEC has resulted in about 150,000 corrections being made in the lists. Over 133,000 of these have been made by the CEC and 16,000 by the political parties. Nearly 13,000 addresses have been corrected and 3,000 dead persons removed from the lists. Kharatishvili said that there had been 19,815 corrections related to surnames, 33,766 related to forenames, 4,284 related to dates of birth and 95,094 related to addresses. 63 cases of 20 or more people being registered at one flat have been corrected. The CEC is continuing to examine other possible errors in the lists.
"The remarks of the political parties are being attentively addressed, and we take into consideration all comments as much as is technically possible. I positively assess the monitoring process, which has enabled us not only to correct errors but make a trust-based step toward improving the electoral process," Kharatishvili said.
National Council representative at the CEC Lado Bozhadze said that, "We are still working on the lists and will send more corrections. The number of errors specified by the CEC is too low, for example it says that there were only 225 duplicate registrations out of 3,700,000 electors and that is far from reality. The voters lists should still be improved. At present it is too early to state that the lists are completely accurate and can be used for the elections because the final lists will only be published on April 26 in accordance with legislation."
Tamar Khidasheli, Chair of the Georgian Young Lawyers Association, said that, "We will not be able to say that the electoral lists are ready until the CEC makes sure all the data received from political parties is examined. For example, the CEC Chairman stated that CEC has not verified the existence of a further 2,500 dead persons in the lists, and this claim is still being examined. I cannot make a final assessment, but I can say that in general the CEC is working hard on this."
As a result of the monitoring the number of electors in Georgia has been set at 3,580,447.