The Diaspora should meet in Georgia, say MPs
By Ernest Petrosyan
Wednesday, April 21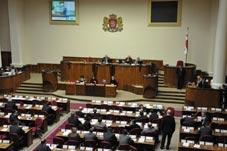 "Russia is not the place for a reunion of the Georgian Diaspora", Nugzar Tsiklauri, the Chairman of the Diaspora Affairs Committee, has said at a plenary session of Parliament.
Tsiklauri said that Russia is actively lobbying Georgian Diasporas in other countries in order to get them to take part in the planned forum in Saint Petersburg on April 23. He said that it is cynical to choose Saint Petersburg as the location of a meeting of the Georgian Diaspora because it is the second largest city in the country which is occupying Georgian territory, whose Government ordered its troops to shoot at Georgian citizens.
"The planned forum in Saint Petersburg is an attempt to involve the Georgian Diaspora in anti-Georgian activities and both oppose Georgia and simultaneously increase the popularity of Alexander Ebralidze", Tsiklauri stated. Georgian President Mikheil Saakashvili has declared May 27 the day of the Georgian Diaspora called by and a rival reunion of the Diaspora will take place in Georgia on that day. "No one can change the ideology of the Georgian Diaspora", stated MP Gigi Tsereteli.
Leader of the Whites Party Temur Shashiashvili stated that for various reasons he will not be attending the forum himself but will send representatives. "We received an invitation, though regrettably I myself will not be able to attend the forum. 2,000 Georgians from 35 countries, who are called criminals by our Government, will be there. I wanted to go there to tell Saakashvili – you are the criminal," stated Shashiashvili.
Russian businessman of Georgian origin Alexander Ebralidze and his organisation will hold its World Congress of Georgian Peoples on 22-23 April.