Saakashvili says democracy guarantees security
By Salome Modebadze
Wednesday, April 21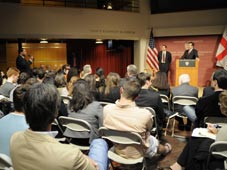 "Georgia has defined which path to follow and we will never change our direction. There is no way back to the Soviet Union, there is no other way than total social transformation and integration into Western society," President of Georgia Mikheil Saakashvili told the US political and public representatives at Harvard's Kennedy School of Politics after remembering the contribution of late President of Poland Lech Kaczynski to Georgia on April 20.
Saakashvili explained that democracy is the main guarantor of the security of a country but this can't be achieved without true rule of law. He said that Georgia will become more secure through holding free and democratic elections. "When your state is not run by the security forces, your best security is the support of the people. In May we will have our first-ever direct elections for Mayor of Tbilisi. We have worked to ensure that all candidates have equal access to the media to make their case to Georgia's voters," Saakashvili said, stressing that democratic reforms are being strengthened by engagement with Western partners.
In his special address, called
Georgia and Black Sea Security
, Georgia's President expanded the concept of national security to include the relationship between security, democracy and legal systems, stressing that the country has pursued a reform agenda while facing serious external threats to its security, including the August 2008 invasion by Russia. "Our democracy had no choice but to grow at gunpoint – in the face of occupation and chronic threats to our Government. Today over 20 percent of our territory is occupied; Russian tanks stand just 30 miles from our capital. The Kremlin has long taken the view that our democratically-elected Government must be changed by whatever means. But our new institutions are robust and will not collapse, our will to reform is unwavering and our economy is growing with renewed vigour," he said, stressing that none of the post-Soviet countries, with which Russia is trying to regain lost influence, have recognised the independence of occupied territories. Saakashvili compared Georgia with Germany, which reestablished its unity after over forty years of being split into two states after the Second World War.
Saakashvili highlighted the constant support of Barack Obama, the US President, for Georgia and called the Strategic Partnership Charter with the US an important indication of this. "The path of our national development has become so strong after the August war in 2008 that nothing can suppress it in future. It's a long and difficult process but our people will not return to the epoch of corruption and 'proletariat'. The success of our country can be seen everywhere, and everyone can be assured that a free democratic society where we can freely choose our future can easily be established in Georgia," Saakashvili said, stressing that a series of reforms to increase transparency, streamline business registration and facilitate investment has catapulted Georgia to no 11 in the World Bank's "Ease of Doing Business" ranking, ahead of the rest of Central and Eastern Europe, as it had learned the true value of economic independence.
"Building democracy requires consistent engagement and support from allies and friends. Georgia can be an eastward anchor of democratic ideals – a bridge to other eastern neighbours aspiring to transatlantic integration. But for this to succeed, our security and democracy must be viewed as two parts of the same challenge – both by ourselves and those who would help us," Saakashvili said, ending his speech by citing Lech Kaczynski, who had encouraged Saakashvili during the August war that there was nothing to prevent Georgia achieving what the rest of the world had.
Analyst Nika Chitadze told
The Messenger
, "Definitely some attempts at developing democratic principles have been made in our country, but there are still lots of things to do in this direction. It is definitely important that the election system has become transparent in our country. There is now a special TV station (2nd Channel) which enables opposition members to fully provide their potential voters with all necessary information about their election campaign; moreover the CEC has never been so transparent as nowadays. However there are problems connected with misuse of administrative resources, which creates an unequal distribution of the State Budget in the regions. Another burning issue concerns the judiciary system, which is not fully independent in making decisions." Chitadze stressed that he welcomed the President's concern about merging democracy with security as it is a step forward to integration with NATO, which would ensure the security of each person.