PACE Monitoring Commission representatives hold meetings in Moscow
By Mzia Kupunia
Thursday, April 22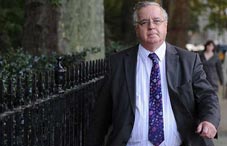 The Parliamentary Assembly of the Council of Europe supports the dialogue between Georgia and the de facto South Ossetian authorities on issues of security, representative of the PACE Monitoring Commission David Wilshire has said, according to news agency
RIA Novosti
. Wilshire made this statement at a meeting with Boris Chochiev, the de facto Special Representative of the so-called South Ossetian leader on Post Conflict Regulation Issues.
The meeting took place at the South Ossetian "Embassy" in Moscow on Tuesday. "There is no sense in getting back to August 2008. Our efforts are aimed at reaching dialogue between Georgia and South Ossetia, for avoiding bloodshed in the future," RIA Novosti quoted Wilshire as saying.
At the meeting with the PACE representative the de facto South Ossetian official touched on the issue of PACE reports on the situation in Georgia's breakaway region. He claimed that the reports were "partial" and "did not represent the genuine reasons for the starting of the war" [in August 2008]. Chochiev told Wilshire that the next PACE report should promote the avoidance of a repetition of the events of August 2008. The PACE Monitoring Commission will present its report on the consequences of Russian-Georgian war by the end of April.
The de facto Special Representative raised the issue of the signing of a non-use of force document, saying that "with the support of some international organisations and states Georgia still refuses to fulfill one of the requirements of the Medvedev-Sarkozy agreement, working out an official document on the non-use of force." The Georgian side has reiterated that such a document will only be signed with The Kremlin, not the breakaway regions' de facto leaders. Georgian Foreign Minister Grigol Vashadze said at a press conference at the UN Headquarters in New York on Tuesday that "Georgia will sign any agreement with the Russian Federation anytime, anywhere," but noted that signing this document with Abkhazia and South Ossetia "would add to their legitimacy".
During the PACE delegation's Moscow visit David Wilshire met Russian Foreign Minister Sergey Lavrov on April 20. The sides discussed the PACE delegation's visit to Abkhazia and South Ossetia, according to the Russian Foreign Ministry website. Lavrov called on the PACE representative to "formulate with the maximum responsibility" the PACE position on the consequences of the "Georgian-South Ossetian" conflict and to consider "the new political and judicial realities" in the region.