Ebralidze sets out his rules
By Gvantsa Gabekhadze
Monday, April 26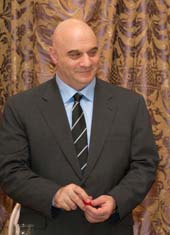 Russian businessman of Georgian origin Aleksandre Ebralidze officially announced his future political plans at the Assembly of the Georgian Diaspora on April 23, where he said that if he is not able to participate in the Georgian Presidential elections scheduled for 2013 he will support the party and leader whose ideas are the closest to his own.
Ebralidze's organisation, the Congress of Georgian Peoples, held the Assembly on April 23-24 in Saint Petersburg. The Congress invited a 60-man delegation from Georgia to attend but only some of those invited actually did so. Among these were opposition National Council members Kakha Kukava and Koba Davitashvili.
"If the Georgian Constitution allows me to participate in the Presidential elections I will do so," said Ebralidze, who does not have the necessary Georgian citizenship and was denied it in 2009. "If not, I will support that political leader who shares my opinions. I am starting to undertake active political work in Georgia but this does not mean that I am intending to form a new party, as this will divide the opposition more. We have received several suggestions from Georgian political parties, we will discuss their initiatives and will support those most in tune with our thinking," Ebralidze said. He then voiced two initiatives of his own. "An international monitoring group financed by the Congress will be created to ensure free elections in Georgia. We will also form a special committee which will work to improve relations with the Abkhazian and Ossetian people, as these territories are the part of Georgia and should be reintegrated," Ebralidze said.
Ebralidze's suggestions were acceptable for the Georgian oppositional leaders attending the assembly. "Ebralidze supports Georgia's territorial integrity, and it will be very important for a Georgian-Russian coordinating council to be created, led by Aleksandre Ebralidze, which will work for the improvement of Georgian-Russian relations. Future political collaboration with Ebralidze is not excluded either," Koba Davitashvili, Leader of the People's Party, stated. Ada Marshania, a member of the legal Abkhaz Government-in-Exile, also attended the Assembly and said, "the aim of my coming to Saint Petersburg and participating in this forum was to find a way to save Georgia. I think that this assembly should have been held earlier. Georgian patriots are gathered here and I have an opportunity to listen to their opinions," Marshania stated.
However the assembly has not been received positively by some parts of Georgian society. "We have received a lot of letters from different Georgian Diaspora members in various countries which state that the Georgian Diaspora should gather in Georgia and not Russia. Those patriots have refused to participate in the Assembly as it is anti-Georgian and directed against the present Georgian Government," Deputy Minister for Diaspora Issues Irakli Nadiradze said. Vice Speaker of Parliament Gigi Tsereteli called those politicians attending the forum "political tourists". "This meeting is in Russia's interests and Georgians' participation in it is not acceptable. When somebody forcibly intrudes into your house, the only thing you should talk to him about is when he will leave your house and nothing more," Tsereteli said.
Analyst Irakli Sesiashvili says that opposition politicians' frequent trips to Russia serve their personal political interests rather than the country's. "I cannot assess such visits positively. I think that these politicians are trying to fill the gap the Georgian Government has created by conducting the wrong politics towards Russia. Some parties think that by working in this way they will be able to gain the support of those people for whom Russia is more acceptable than the West or United States. This is not an insignificant number of people: the NATO Information Centre has sent me the results of its latest poll which show that 10-25% of Georgian citizens are looking to Russia as their protector and getting their votes will be very profitable for part of the opposition. But I think that collaborating with the enemy for this reason is not a good thing," Sesiashvili stated.