MPs study "ethnic cleansing" cases in Abkhazia and South Ossetia
By Mzia Kupunia
Monday, April 26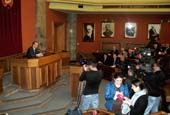 Materials outlining instances of "ethnic cleansing" of Georgians in Abkhazia and South Ossetia since 1992 will be sent to the European Court, according to Chairman of the Temporary Parliamentary Commission on Territorial Integrity Issues Shota Malashkhia. At a special session on Friday attended by head of the Constitutional Security Department Ioseb Topuridze and Deputy Prosecutor General of Georgia Davit Sakvarelidze, the Commission members viewed video and audio materials of what took place in Georgia's breakaway regions in 1992-1993.
The Commission already possesses up to 80 video and audio files, as well as about 200 testimonies of the "ethnic cleansing" of Georgians in Abkhazia and South Ossetia, according to Shota Malashkhia. "Collecting the facts is still in progress. In the end the files will be sent to European courts and different international organisations," Malashkhia said.
Members of the Commission expressed their confidence during the session that the "perpetrators will sooner or later have to pay for the ethnic cleansing of Georgians." "The coordinated activities of Parliament, the Ministry of Internal Affairs, the Prosecutor's Office, the media and citizens, give us hope that the criminals will stand before the international court and bear responsibility for the heavy crimes they have committed," the Chairman of the Temporary Commission noted.
Deputy General Prosecutor Davit Sakvarelidze said that the Prosecutor's Office regularly sends materials on "ethnic cleansing" in Abkhazia and South Ossetia to the International Court of Justice in The Hague and other European courts. More human rights violations, including torture and the abuse of property rights, are being revealed in Georgia's occupied territories, the Constitutional Security Department head said. "These facts are also being collated," Topuridze stated, adding that the documents will be sent to the Parliaments of different states in addition to international organisations.
No comments have been made by the de facto Abkhazian and South Ossetian authorities in response to the allegations of the Georgian side. However, earlier on April 20 de facto South Ossetian human rights defender Davit Sanakoev said that the rights of ethnic Georgians living in the Tskhinvali region are not being violated. "Citizens are not being treated differently on the basis their ethnicity in South Ossetia. The attitude is the same towards everyone," Sanakoev told the Regnum news agency. "No matter how exaggerated the information is about the violation of the rights of the Georgian population in South Ossetia, I can say with confidence that this is not true," the de facto South Ossetian official stated.