Georgia gets "unreliable" report thrown out
By Ernest Petrosyan
Tuesday, April 27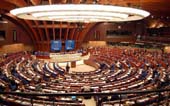 The Council of Europe will not discuss the report on the Russian-Georgian conflict and its aftermath prepared by the two rapporteurs of its Parliamentary Assembly Monitoring Committee, Matyas Eorsi and David Wilshire, at its Spring session, Rustavi 2 reports. Accordingly no resolution will be adopted. This follows the Georgian delegation to PACE (the Parliamentary Assembly of the Council of Europe) objected to Wilshire's visit to the so-called Embassy of the South Ossetian puppet regime in Moscow, where he went after visiting Georgia and its occupied regions. The delegation said that this visit puts the impartiality of the document in question.
"No resolution will be adopted during this session because Wilshire, who was not let into Tskhinvali by the Ossetian puppets, visited their so-called Embassy to Moscow instead and thereby violated Georgia's sovereignty and territorial integrity and other fundamental principles of the Council of Europe. Our colleagues in the Council of Europe shared our position", stated MP Petre Tsiskarishvili.
"[Stopping discussion of the report] is a very significant achievement, because this is very serious signal to all that there should not be any type of cooperation or contact with the puppet regime except under certain rules. As a result of Wilshire breaking these rules the Council of Europe will not discuss this document at all", stated Giorgi Kandelaki, Deputy Chairman of the Parliamentary Foreign Relations Committee.
Georgian Deputy Foreign Minister Nino Kalandadze stated at the weekly Monday briefing that Wilshire's action had raised doubts that The Kremlin had planned this scenario. "Wilshire was not a private individual or politician, who would be entitled to make such a visit, but a Council of Europe delegate, and accordingly his report is unreliable, or at least not objective," Kalandadze said.
Parliament Speaker David Bakradze also criticised Wilshire for making an official visit to the South Ossetia puppet Embassy in Moscow, saying at yesterday's bureau session that it was an act unacceptable for Georgia. "Wilshire holding meetings with the so-called Ambassadors of a so-called country, the independence of which has not been recognised by any member state of the Council of Europe except Russia, is unacceptable for me, the Georgian delegation and other member states of the Council of Europe," he said.
Political analyst Ramaz Sakvarelidze told The Messenger that Georgian objection to the visit, and consequently the report, was natural. "I do not think that the visit of David Wilshire was part of a Kremlin-plotted scenario, however, it was to some extent recognition of the status of South Ossetia. Anyway I do not think this report will have any consequences for Georgia", stated Sakvarelidze.
The Council of Europe spring session will last five days and end on April 30. Heidi Tagliavini will make a speech on the 2008 Russian-Georgian war and its consequences at this session, based on her previous report, after which debates will be held.