Tbilisi to be bathed in culture
By Messenger Staff
Wednesday, April 28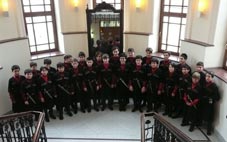 From 27 April to 28 May the Georgian Spirit festival will be held. This annual event gives people the opportunity to discover more about Georgian culture. Painting and graphic exhibitions, concerts and classical ballet performances will be held in Tbilisi.
On the first day of festival the launch of the recently-established Queen Tamar Foundation was held at TBC Gallery, after which the academic conference "We Praise Queen Tamar" was held. On the same day the works of photographer David Tkemaladze were displayed at the TBC Gallery. The next event will be held on May 4 when Tengiz Mirzashvili's paintings will be exhibited in the Gallery's lobby for a week.
On May 7 the 170th anniversary of great Georgian poet Akaki Tsereteli will be celebrated in the TBC Gallery when poems and song settings of his poems will be sung. On May 12 Georgian Voices will hold a concert at Tbilisi State Concert Hall. On May 25 Irma Nioradze, the famous Georgian prima ballerina, will perform at the Shota Rustaveli Theatre.
The festival will close with the launch of a Georgian singer Dato Gomarteli's new album, called Georgian National Spirit, at Tbilisi Event Hall.