MP claims his rights have been violated
By Liana Bezhanishvili
Thursday, April 29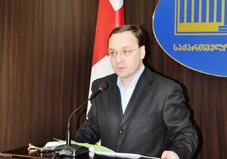 On April 28 Giorgi Tsagareishvili declared that his rights as an MP had been violated.
At a briefing Tsagareishvili said that on February 26 he presented a legislative initiative to introduce changes in the Criminal Code to Parliament. The Parliamentary Bureau decided that the draft law would be considered by the Committee of Legal Issues on March 16-19 and a plenary sitting would consider them on March 23- 26. This was not done, and Tsagareishvili has now been notified by the Committee that it might not even manage to discuss the draft law during summer.
"The changes the draft law would introduce would extend the period after an election in which a person can be prosecuted for serious electoral offences. Thus it would have been desirable to adopt this draft law before the municipal elections," Tsagareishvili declared. He stated that the Rules of Procedure of Parliament had entitled him to submit the draft law directly to the Parliamentary Bureau and demand its prompt consideration by an expedited procedure.
According to the present law a person who commits an election-related crime can be punished up to two years after the election in question. Tsagareishvili's initiative would extend this term to 15 years.
The MP said that falsification of elections is a more serious crime than accepting a bribe. "During the rule of Shevardnadze's Citizen's Union members of the present Government team were involved in election falsification," Tsagareishvili said, naming them as Mikheil Machavariani and Khatuna Gogorishvili.