Yanukovich still equivocal on Abkhazia and South Ossetia
By Mzia Kupunia
Thursday, April 29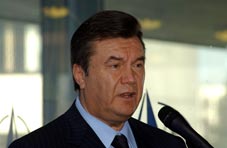 Ukrainian President Viktor Yanukovich has again hinted about the possibility of recognising Georgia's breakaway regions of Abkhazia and South Ossetia as independent states.
"Ukraine is ready to support the equality of the values and democratic rights of the people living in frozen conflict areas," Yanukovich said in Strasbourg on April 27 when asked whether Ukraine could one day recognise Abkhazia and South Ossetia. "We are categorically against the use of double standards in this issue. The time has come to consider the criteria for granting independence and to work out approaches towards resolving frozen conflicts,"
Itar-Tass
quoted him as saying.
Yanukovich had also said that he might recognise Georgia's breakaway regions in March, again stressing the inadmissibility of double standards. "I have said before that we are against a politics of double standards," Yanukovich said then, referring to Kosovo, according to news agency
RIA Novosti
"It was already obvious back then that frozen conflicts would only get worse. Another perfect example is South Ossetia," the Ukrainian President stated. "It's my view that we must yet again underline that international law should apply to all without exceptions," he went on, although saying that the recognition of South Ossetia and Abkhazia was "not currently on the agenda."
Some Georgian analysts suggest that the recognition of Abkhazia and South Ossetia as independent states by Ukraine could bring "heavy results" for Georgia. "Viktor Yanukovich might be using the Abkhazian and South Ossetian issue for trading with Europe, however if Russia manages to make the Ukraine Government make such a decision this could be a serious strike against Georgia," analyst Mamuka Areshidze said. He suggested that recognition might cause a chain reaction in the whole post-Soviet region. "This could lead to very heavy consequences, however I hope that Yanukovich has raised the issue just to bargain with Europe, like Belarus does," he added.
Former Chair of Parliament and leader of the Democratic Movement-United Georgia Nino Burjanadze said that a friendly country like Ukraine would not recognise the breakaway regions. "But the fact that Ukraine's Government even speaks about it is something we should thank Saakashvili for," Burjanadze added.
The Georgian Foreign Ministry has said that Yanukovich's statements have not been met with any "particular concern" in Tbilisi. "Georgia and Ukraine are strategic partners and friendly states. Ukraine supports Georgia's sovereignty and we are deeply convinced that the strategic relations between the two countries will not change," Georgian Deputy Foreign Minister Nino Kalandadze said on Wednesday "Georgia's sovereignty is not endangered from the Ukraine side. Kiev's policy towards Georgia will not be a subject for reconsideration," Kalandadze added.