Business forum
By Messenger Staff
Friday, April 30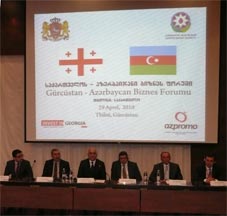 The Radisson Blu Iveria Hotel hosted a Georgian-Azerbaijani business forum on 29 April. A very substantial group of Azeri officials and businessmen, led by Shahin Mustafayev, Minister of Economic Development of the Republic of Azerbaijan, arrived in Tbilisi for the meeting. Zurab Pololikashvili, the Georgian Minister of Economic Development, welcomed the Azeri guests and briefed them about the current economic situation in Georgia and the prospects of future cooperation between businessmen of the two countries, highlighting the well established, friendly and neighbourly relations which already exist between them.
Minister Mustafayev and Azeri Ambassador to Georgia Namiq Aliyev highlighted the brotherly relations and spirit of deep cooperation within the two countries, signifying the importance of the transportation links through pipelines or railways that send Azeri energy throughout the world. They highlighted in particular the importance of the Baku-Tbilisi-Kars railway, which will eventually help establish stable transportation between the Caucasus and Europe. Special attention was given to Azeri efforts to develop non-oil product sectors in its economy.
Irakli Matkava, head of the Georgian National Investment Agency, and Adil Mamadov, President of the Azerbaijan Export and Investment Promotion Foundation, informed the audience about the investment climate, business opportunities and prospects, in their respective countries. Guram Mgebrishvili, Zaur Mamadov and Johannes Heinzler shared their experience of conducting business in Georgia or Azerbaijan.
The signing ceremonies of the memorandum of cooperation between the Georgian National Investment Agency and the Azerbaijan Export and Investment Promotion Foundation and the memorandum of cooperation between the Georgian Entrepreneurs Association and Azerbaijan Entrepreneurs Confederation were also held during the forum. Later bilateral meetings between businessmen of both countries were held on the basis of mutual interests.