Tskhinvali frees three Georgian detainees
By Mzia Kupunia
Monday, May 3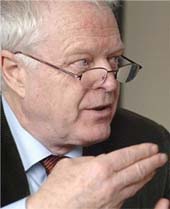 The de facto South Ossetian authorities freed three Georgian detainees as a "sign of goodwill" on Sunday. The decision was made during the visit of the Council of Europe Commissioner for Human Rights Thomas Hammarberg to Tskhinvali, news agency
Res
reported. The CoE representative met the de facto South Ossetian President's representative in Human Rights Issues David Sanakoev as part of his visit to the Georgian breakaway region.
The former detainees, 23-year-old Levan Biganov, 25-year-old Jamlet Jamrishvili and 37-year-old Genady Tsiklauri, were detained in October 29 according to Sanakoev. "The release of these three detainees indicates the South Ossetian officials' aspiration to continue work on the issue of freeing the detainees and searching for missing people," he stated. The detainees were handed to the Georgian side at the village of Ergneti at the administrative border.
Three other Georgians detained with Biganov, Jamrishvili and Tsiklauri remain in detention but Hammarberg said that the de facto authorities have promised to free them in a week's time. He also told journalists that negotiations to free 8 other Georgian citizens from Tskhinvali jail were still going on. Shida Kartli Governor Lado Vardzelashvili told The Messenger that 13 Georgian citizens in all are currently imprisoned in de facto South Ossetia.
Thomas Hammarberg hailed the decision of the de facto authorities, saying that it will "significantly ease" his efforts to deal with the issue of the missing people, according to Res. "During this visit I have received a positive reaction from both sides on the issue of freeing the detainees, as well as on the missing people issue. I have understood that I have a chance to come back here again," Res quoted the CoE Human Rights Commissioner as saying.
Hammarberg noted that progress had been "so slow and complicated" that he was "about to quit". "Some steps are being made, however I would like more to be done, because I feel the pain and grief of the relatives on both sides and I feel their will to see the missing people return to their homes," the CoE official said, according to Res. "I think that people should be detained only if they have committed a crime," he added.
The Commissioner also met family members of three South Ossetian residents "declared missing by the Georgian authorities" according to Ossetian media outlets. "However the Ossetian side possesses proof that they have been tortured and beaten up by the Georgian military," Res wrote, posting a video allegedly showing the beating up of the South Ossetian residents by Georgian law enforcers (http://cominf.org/node/1166479677). The Georgian Interior Ministry denies the allegations of the de facto Tskhinvali officials, saying that no South Ossetian residents are imprisoned in Georgian jails.