Georgian Foreign Ministry hails the release of three Georgian citizens
By Mzia Kupunia
Tuesday, May 4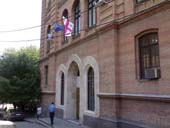 The Georgian Ministry of Foreign Affairs has welcomed the release of three Georgian citizens from Tskhinvali prison, assessing it as a "victory" for Georgian diplomacy. Speaking at the traditional Monday press briefing Deputy Foreign Minister Nino Kalandadze expressed hope that further negotiations will also be "successful."
Three residents of the village of Lamiskana, in the Kaspi region, were freed on Sunday afternoon by the de facto South Ossetian authorities as a "sign of goodwill." The decision was made during the visit of Council of Europe Commissioner for Human Rights Thomas Hammarberg to Tskhinvali.
23-year-old Levan Biganov, 25-year-old Jamlet Jamrishvili and 37-year-old Genady Tsiklauri were detained in October 2009 on "illegal border crossing charges", according to the de facto Tskhinvali officials. "The release of these three detainees indicates the South Ossetian officials' aspiration to continue to work on the issue of freeing detainees and searching for missing people," the de facto South Ossetian President's representative in Human Rights Issues David Sanakoev said on Sunday, news agency
Res
reported.
Deputy Georgian Foreign Minister Kalandadze said that Hammarberg's visit had been "partly successful." "Freeing three Georgian citizens out of the thirteen detained in Tskhinvali was a positive aspect of the visit, however Hammarberg's mission is not over," Kalandadze told journalists "We will continue intensive negotiations until the remaining 10 detainees are freed," she added, expressing hope that "the negotiations will be successful."
The international community being part of the process of negotiations is a "positive result" of Georgian diplomacy, according to the Deputy Foreign Minister. "We have no other chance to contact them [the de facto authorities] and hold negotiations other than through international organisations," she noted, adding that the aim of Georgian diplomacy is to "fully inform" the international community about the situation in Georgia's breakaway regions and ensure the presence of international monitors in Abkhazia and South Ossetia.
While the Georgian side says that 10 more detainees remain imprisoned in Tskhinvali jail, the de facto South Ossetian authorities are demanding the release of three Ossetian residents, Alan Khachirov, Alan Khugaev and Soltan Pliev, allegedly detained by Georgian law enforcers in October 2008 and held in Tbilisi. Speaking to
The Messenger
Governor of Shida Kartli region Lado Vardzelashvili said that this allegation is "merely a lie." The Georgian Interior Ministry also categorically denied keeping any South Ossetian residents in detention.