De facto Minister criticises human rights situation in Georgia
By Mzia Kupunia
Wednesday, May 5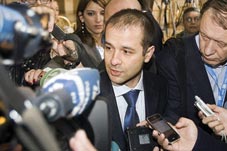 A human rights monitoring mission should be set up in Georgia, not Abkhazia, de facto Abkhazian Foreign Minister Maxim Ghvinjia said on Tuesday. He stated that human rights are "constantly being violated in Georgia". Ghvinjia's statement followed the statement of Georgian Minister for Reintegration, Temur Iakobashvili, that there was a need to set up an observation mission due to human rights violations in Abkhazia and South Ossetia.
Ghvinjia said that, "Georgia still has political prisoners, when Abkhazia has none." "In Georgia, people affiliated with the opposition either go missing, die in obscure circumstances or end up in prison. That's why it is very important for the international community to send a human rights monitoring mission to Georgia," he noted, adding that in "Abkhazia human rights issues are being addressed with the support of the Government, civil society and international representatives who come to the republic."
Officials in Tbilisi have downplayed the accusations of the de facto Abkhazian Foreign Minister, saying that he is not in a position to make official statements about the situation in Abkhazia. Deputy Reintegration Minister of Georgia Elene Tevdoradze said that his statements can be considered as the point of view of a particular person and not official ones. "He is not a legitimate Government representative," the Deputy Minister noted.
Speaking to
The Messenger
Tevdoradze outlined the human rights problems in Georgia's breakaway region of Abkhazia. "The fundamental human rights, like the right to live in one's own home, freedom of movement and the right to visit and take care of the graves of relatives, are being violated in Abkhazia. About 300,000 IDPs are now deprived of these rights," the deputy Reintegration Minister stated, adding that the rights of residents of Abkhazia who are not Abkhaz or Russian are being violated "daily." "Right now these people are isolated, without the presence of any international observers on the ground," she stated.
"It is our great wish, and the wish of the US and European states, that international monitors observe the situation in Abkhazia. The only ones who oppose this desire are Russia and the puppet regime itself," Tevdoradze said. "The situation will remain unchanged until they realise that information about the human rights conditions in Abkhazia should be made available outside the breakaway region," she added. As for the claim of Maxim Ghvinjia that there is a need to deploy international human rights monitors in Georgia, Tevdoradze said that there are "enough international organisations monitoring the situation in Georgia and the Government always reacts to the reports which they release."