Police Day celebrated
By Etuna Tsotniashvili
Friday, May 7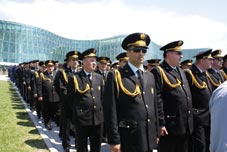 "The Georgian police force is the best in the world and all countries admit this," Georgia's President Saakashvili stated at the police parade held outside the Ministry of Internal Affairs of Georgia on the Day of Police, May 6. Although adding that there are certain shortcomings which are being significantly reduced everything has moved in the right direction."
"Not everything was always ideal. Of course, there were shortcomings and there were crimes committed by individuals. Of course, at various stages the human rights situation was not always without black spots and problems, but eventually everything moved into the right direction and we will do our best not to return to those old ways," he said.
Accordion to him, like St George the Georgian police are fighting and winning over "dark forces".
"Since the Rose Revolution we managed to overcome the criminal mentality along with social problems. Many have criticized zero tolerance, though I will still say it worked", Saakashvili said.
According to him, the trust in police was just 5% a few years ago, and now it has increased to 80%. "The Georgian police are depoliticized today. However, the police will respond to any attempt against the Georgian state", Saakashvili said. "People love their police, people love you and trust you because you know how to protect them, you know how to respect them,` the president added.
Saakashvili stated Georgia maybe the only country among former soviet states, which is fully free from Former Soviet Union highlighting that Georgia will never go back to the Soviet Union. "Symbolically the Soviet Union ended in Georgia when Georgia's five crossed flags, Georgian police' new uniforms and people's modern thinking replaced that of Soviet Militia and uniforms… the Soviet Union which invaded Tskhinvali and Abkhazia will not be able to stay there nor can it take the rest of Georgian territories. Our armed forces and police will give them adequate answers. While recollecting the August war days the President emphasised that in that period Georgian police guarded all Georgian regions with dignity and bravery and recollected the days when half of Georgian territory was shelled from Russian planes and when Georgian police guarded all regions of Georgia with dignity, and calmed people in panic. He read all of the names of policemen lost during that conflict and a minute of silence was held to commemorate the late officers.
The police units, pickup vehicles, patrol vehicles marched towards the ministry office and stood in a half circle around the building.
Later yesterday Saakashvili arrived in Batumi where various events dedicated to the sixth anniversary of the Adjara revolution were going on. `Very often, the authenticity of historic dates is suspicious, but May 6 in 2004 was really the day of liberation, because Abashidze`s regime was nothing but classical separatism," he said. In his speech Saakashvili highlighted his attention on tourism development in Adjara and predicted that Adjara will develop 5 times faster than Turkey. "I know that there is still much to do here. Although this region will develop 5 times faster than Turkey. This year we expect 800-900 thousand visitors in Adjara, but in 2012, when the regional development projects are completed it will be over 2 million," he concluded.
The Georgian president also spoke about the projects which will be implemented in the region for the development of tourist infrastructure and attraction of investments. He said Batumi would be one of the most attractive cities of Europe.