Police day protested
By Gvantsa Gabekhadze
Friday, May 7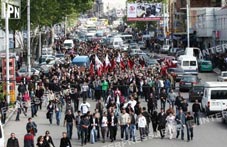 An Opposition rally protesting Saint Georgi's day's declaration as a Police day was followed by a clash between protesters and riot police on May 6, during which 20 people were injured.
Various opposition political parties (The National Council, Defend Georgia, Democratic Movement-United Georgia and Solidarity for Political Prisoners) objected to the Government's declaration of Saint Georgi's day as Police day on April 3 and called on Georgian society to show their protest of that by participating in opposition demonstration on May 6.Despite the opposition's announced statements that the government should have cancelled the parade dedicated to Police day, they were not able to come close to the new building of the Interior Ministry, where the parade took place. All the roads towards the Ministry were blocked either by yellow buses or riot police. After several unsuccessful attempts to reach the destination, protesters gathered in Varketili district, where clash among the riot Police and protesters took place. Based on the eyewitnesses, a person in civilian clothes, standing with law-enforcers, hit one of the protesters, who in his turn splashed yellow paint on him, after which the clash started and protesters threw stones at the riot police. Nearly 20 people from both sides were injured, mostly traumas on heads. Condition of three opposition activists has been harder compared with others and they have been taken to Republican Hospital. All injured left the hospitals the same day.
Opposition shifted the responsibility concerning the incident on the Authority," it was very obvious that we are not intending any confrontation with police, especially when their number has been significantly more than the number of protesters. It was a provocation, staged by Vano Merabishvili and he will answer for this. We will continue permanent street rallies so that the authorities cannot celebrate Police day on May 6 any longer," Zurab Noghaideli, leader of the Movement for Fair Georgia, stated. Based on the statement spread by Democratic Movement-United Georgia, Georgian Authority confirmed on May 6, that Police and Army are Governmental weapons," everyone inside and outside the country should see that Saakashvili uses foreign assistance not for strengthening democratic institutions , just for strengthening his authoritarian regime. They held a parade for themselves, as Georgian citizens were not able even to come close to that place" said the statement. Despite that Alliance for Georgia refused to take part in manifestation, co leader of Alliance, Sozar Subari, attended it," when one declares Saint Georgi's day as a police day, it is very natural that this fact creates public irritation, it is laughing at people. I have attended to take part in manifestation by my own will, it has been my personal decision," Subari said. However Alliance supports the idea that the Authorities are responsible for the clash," this authority is to be changed, but by means of elections, I appeal to the Government to restrain from provocations and avoid escalation in the county," Irakli Alasania, the Alliance leader stated. After the clash opposition leaders called on people to go home, however they underlined that the street rallies will continue.
Mayoral candidate for Tbilisi Mayoral elections responded the manifestation," it was an irresponsible action from the opposition side. It is very regrettable that part of Georgian politicians chooses the way of rallies," Ugulava said.
Analyst Nika Chitadze told
The Messenger
," I can see nothing unacceptable in declaring May 6 as a Police day. Saint Georgi is generally associated with victory and I can say that the Police reform in Georgia has been the most successful compared with some other reforms carried out by the present Authority. I think that such reaction from part of Georgian society has been exaggerated. Of course our Authority has made serious mistakes, even in Police some issues still needs improvement, but in general, there have been very positive changes in this direction lately. As for oppositional manifestation, they have a right to protest, but they have no right to violate other less politised citizens' rights. When you block the road, or railway, it can be considered as a violation of law, not only based on Georgian law, according to international one as well. I think that these manifestations will not strain situation significantly, as the number of oppositional activists have been significantly reduced," Chitadze stated.