Success of Georgian Sportsmen
By Messenger Staff
Friday, May 7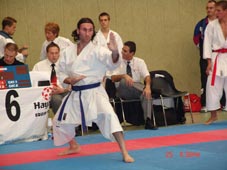 In Sofia on April 27 the International Association and Bulgaria's karate Do federation organized and held the karate Do international tournament, the referee of which was karate Do international association major instructor Dani Sada Shige Kato.
Georgia's Shotokan karate Do confederation group participated in this prestigious tournament in which numerous experienced and talented sportsmen compete every year.
Giorgi Gochadze (in the children's group) defeated his competitors easily and brought the gold medal to our country. The second place and the silver medal was won by the champion of Europe Mzechabuk Makharadze (in the adults group) who missed the gold by only a half point.
The rest of our sportsmen Levan Geldiashvili, Akaki Biachudze, Giorgi Bebiashvili and others couldn't bring awards to Georgia but they still showed excellent technique and preparation.