Russian Border Police are at Mamisoni pass
By Mzia Kupunia
Tuesday, May 11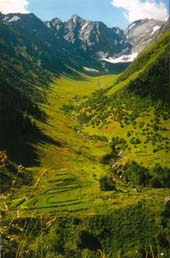 The Russian Border Police has set up a post at the "state border between the Russian Federation and South Ossetia" at the Mamisoni pass, news agency
RIA Novosti
has reported based on information supplied by the head of the press service of the Russian Security Service Border Department in North Ossetia, Alexander Solod. "The post has been set up in order to strengthen the southern part of the state border of the Russian Federation," Solod said, according to the agency.
The post was established at a height of 3,000 metres above sea level after a six hour ascent, Solod told journalists. "The post is located on the site of the former meteorological station," he added. Solod said that the setting up of the new point is part of the agreement between Russia and de facto South Ossetia on Joint Defence of Borders. This agreement was signed on April 30, 2010.
"From this very moment servicemen of the Border Department of the Russian Security Service in North Ossetia have started defending the Russian-South Ossetian border section," the Russian Border Department official noted. "It has been two years since Russian border policemen patrolled the Mamisoni pass and this enhances the security of the state border in this section," he added.
Georgia denies that a border point has been established at the pass. "The abovementioned place is covered with several metres of snow right now and the Russian side has not opened any posts there," Deputy Head of the Georgian Border Police Koba Bochorishvili said. "Due to the deep snow the border policemen are unable to get to that specific point. We are watching the situation there and I can confirm that there is nobody at the old meteorological centre at this time," he stated.
Bochorishvili said that "as soon as the snow melts" Georgian Border Police will go to the old meteorological centre and "control the situation at the site". He added that this meteorological station on the Georgian-Russian border has been the subject of disputes between the two countries. "There has never been any border post there, either Georgian or Russian," he noted.
Analyst Mamuka Areshidze has said that there is nothing new in Russia's Federal Security Service Border Department controlling the "Russian-South Ossetian" border section at Mamisoni pass. "Russian and de facto South Ossetian flags are already flying at the meteorological station," the analyst noted. "It is possible that the number of Russian border policemen deployed there in winter is minimal, however this number might have increased now as spring has come," he added.