Russia to raise non-use of force treaty issue at Geneva
By Mzia Kupunia
Thursday, May 13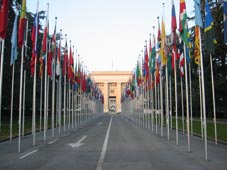 Russia will demand the signing of an agreement on the non-use of force between Georgia and its breakaway regions of Abkhazia and South Ossetia, Russian Deputy Foreign Minister Gregory Karasin said at a meeting with the Geneva talks co-mediators on May 11. "It is very important to reach some specific result in terms of a non-use of force document being signed by Georgia, South Ossetia and Abkhazia," Karasin said, according to information posted on the Russian Foreign Ministry's website.
This issue has been raised at previous meetings in Geneva as well, however the Georgian, Russian and de facto Abkhazian and South Ossetian authorities have failed to reach any agreement on it. While Russia and the de facto republics demand that document be signed by Tbilisi, Sokhumi and Tskhinvali, the Georgian side insists that any such agreement should be concluded between Tbilisi and Moscow.
"It is very sad and cynical that Russia, which has been demanding the signing of a non-use of force document with Georgia for a long time, is now opposing the suggested options. The proposed document envisages agreeing not to use force and implementing a number of measures to ensure security on the ground through international mechanisms," the statement of the Georgian Foreign Ministry reads.
Georgian analysts suggest that signing a non-use of force document with the separatist regions would be indirect recognition of their sovereignty. "The separatists need the signed paper to say that Tbilisi has recognised them as independent states," analyst Soso Tsintsadze said. He stated that the document should be signed only between equal sides and not with the de facto republics. "The Georgian side should sign any such kind of document only with Russia, because Russian soldiers and military bases are deployed both in Tskhinvali and Sokhumi and Moscow has concluded agreements in the spheres of security, defence and border protection with the separatists, so Tskhinvali and Sokhumi have less argument to support their demand of the signing of a non-use of force treaty," he suggested, adding that assaulting the de facto republics would mean assaulting Russia.
"A non-use of force treaty is usually signed in order for one state to defend itself against attack by another. In this case there is no such threat to these two regions since Russia has entered there with its troops," Tsintsadze added.
Fellow analyst Irakli Sesiashvili noted that the sides have failed to reach any results at the Geneva negotiations, adding that the format has exhausted itself. "The Geneva talks have been set up so that the West can have the feeling that it is participating in conflict resolution. However in reality they are not result-oriented, so the continued existence of the format is not expedient," Sesiashvili suggested.
The 11th round of talks in Geneva is scheduled for June 8.