Candidates get cracking on the campaign trail
By Salome Modebadze
Thursday, May 13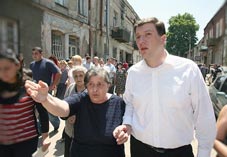 The various Mayoral and single-member seat candidates are continuing to introduce their manifestos to potential voters in advance of the May 30 local elections.
Gigi Ugulava, candidate of United National Movement (UNM) for Tbilisi Mayor, met Bagebi dwellers on May 12 and outlined his 4-year projects for Tbilisi's development under the slogan 'There is Still Much to be Done'. Ugulava stressed the importance of developing infrastructure and a safe environment for attracting investments and said that the creation of long-term jobs and the protection of social rights were his main priorities. Kakha Guruli, the UNM's candidate for Varketili district, said that he hoped all Tbilisi citizens would have as well-developed an infrastructure as there is in his district.
The Alliance for Georgia said it would appoint GEL 100,000,000 from the State Budget over the next four years to rehabilitate damaged houses in the capital it it wins the elections. "Tbilisi Municipality has been unable to ask whose responsibility it is to look after the people living in danger after the earthquaqe in 2002. There is no transport in this street but Tbilisi Minicipality has no plan to deal with this issue," Irakli Alasania, leader of the Alliance for Georgia and its candidate for Tbilisi Mayor, said at a meeting with Pirosmani Street residents on May 12. Viktor Dolidze, Alliance candidate for Chugureti district, stressed that these people have been practically ignored by the Government. "They have appealed to the relevant services but in vain. No one has ever expressed support for these people since the 2002 earthquake," Dolidze added. Tina Khidasheli, candidate for Saburtalo, talked about similar problems in Balanchivadze Street, where people were complaining about roads which Khidasheli said Tbilisi City Hall should have repaired before.
"The public is ready for changes," Alasania told Saburtalo residents whom he met with another Saburtalo candidate, Natela Machavariani, who highlighted that social problems, including unemployment, were the main priority for people. "The main question the voters generally ask us nowadays is whether their votes will be safe or not. I want to stress that your votes will be absolutely confidential and no one will ever touch them. So let's be brave and follow our heart on May 30," Alasania told his supporters.
Davit Usupashvili, Davit Gamkrelidze and Sozar Subari, also senior Alliance for Georgia figures, met the Rustavi population and introduced them to the single member and party list candidates for the city while presenting their manifesto and encouraging Rustavi electors to become actively engaged in the process. "The Government and ruling party have fulfilled none of their election promises, including the one about addressing unemployment. On the contrary, production has been suspended in Rustavi and foreigners are generally working in the remaining factories, not local people," stated Subari. "Rustavi, the always-working town, has now become absolutely miserable, so employment is among the top priorities for this town," Davit Gamkrelidze said, adding that the Alliance aimed making changes which would deter Rustavi residents from either seeking a job in Tbilisi or going abroad. "We want to encourage personal development by promoting people's interests, not the Government's. We have to make people believe that they are masters of their own fate," Gamkrelidze commented to the media.
Nika Ivanishvili, leader of the Public Democrats and their candidate for Tbilisi Mayor, introduced Gldani District candidate Guram Sagharadze, the well-known international all round free style wrestling champion who has Honorary Tbilisi citizenship, whose life experience and success have given Ivanishvili the confidence that Sagharadze will defend the rights of the Gldani population with honour.
Davit Chelidze, Public Democrats candidate for Vake, told the media that the problems of Vake are familiar to him as he was born and grew up in this district. "Problems are generally the same in all districts, but I want to listen to people's opinions, and I offering my candidacy for the City Council to defend their rights and care for their welfare," Chelidze stated.
Giorgi Targamadze, leader of Christian-Democratic Movement (CDM), met Ozurgeti region activists and supporters and spoke about the importance of distributing financial resources throughout the country to ensure Georgia's equal development as a united country. "The country's strength is first of all the strength of its regions," Targamadze stated. Leaders of the CDM plan to meet the people of Adjara, Guria and Samegrelo during the next few days.
Tamta Demurishvili, CDM candidate for Mtatsminda district, shared her concerns about the medical field. CDM members have promised to ensure that a socially oriented budget is drawn up and defend the interests of socially unprotected people. The CDM says that local authorities should look after pensioners, children, IDPs, etc and will thus seek to establish an independent medical and social protection service at Tbilisi City Hall with a budget of around GEL 9 million. "There should be at least two municipal hospitals in Tbilisi especially for the most unprotected people. Such hospitals are important for people without insurance packages or a stable income. Tbilisi City Hall should also finance all the medical projects which the central Government refuses to support. One special project is to be created for people with hepatitis C," Demurishvili told the media.
Giorgi Laghidze, the Future Georgia candidate for Tbilisi Mayor, launched his campaign by highlighting medical and social issues. "Our project is costed in detail and I will be able to fulfill all its promises in the public support me," Laghidze said, stressing that he is offering Tbilisi citizens municipal transport (bus, metro) for 10 tetri, free insurance packages for people over 60 and municipal pharmacies and hospitals.
The approaches and views of the various parties' candidates seem to be pretty much the same but the issues they are interested in definitely differ. The Deputy Ministers who are members of the Government Interdepartmental Commission have taken responsibility for ensuring that no electoral violatons occur in their departments.