UN assesses women's rights in Georgia
By Messenger Staff
Thursday, May 13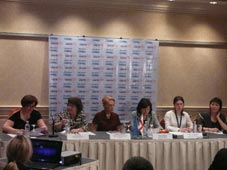 The United Nations Development Fund for Women (UNIFEM) held a special press conference dedicated to the first official visit to Georgia of UNIFEM Executive Director Ines Alberdi on May 12 at Tbilisi Marriott Hotel. The aim of the press conference was to sum up the results of the visit.
During her three-day official visit to Georgia Ines Albedi met various high-level Government representatives, donor and civil society organisations and IDP and conflict-affected women's groups and observed the status, progress and gaps in the field of gender equality and women's rights in the country. The press conference was attended by Ines Alberdi, Rusudan Kervalishvili, Deputy Chair of the Parliament of Georgia and Chair of the Gender Equality Advisory Council under the Chair of the Parliament of Georgia and Tamar Sabedashvili, UNIFEM Gender Advisor in Georgia.
At the press conference Ines Alberdi evaluated Georgia's performance in the field of protecting women's rights in Georgia, introducing further education opportunities in this field and highlighting the prospect of further activities. UNIFEM is the UN agency dedicated to advancing women's rights and achieving gender equality. It provides financial and technical assistance to innovative programmes and strategies that foster women's empowerment.