The Russian Navy won't attack you, Medvedev says
By Gvantsa Gabekhadze
Wednesday, May 19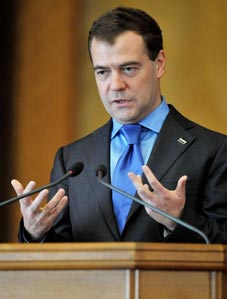 Russia will not use its Black Sea Fleet base to conduct aggression against neighbouring or other countries, Russian President Dmitry Medvedev said on May 17 during his visit to Ukraine. He made this statement for
RIA Novosti
and then repeated it at Kyiv State University when meeting Ukrainian students.
Russia and Ukraine recently signed an agreement extending the lease on the Russian Black Sea Fleet base in the Ukrainian port of Sevastopol for 25 years after the current lease expires in 2017. In return for this extension, which may later be prolonged for an additional five years, Ukraine will receive a 30% discount on Russian natural gas worth an estimated $40 billion.
"Let me tell you directly, Russia will not use its Black Sea Fleet in Sevastopol for intervention in neighbouring or other countries as Russia is a peaceful country. The existence of this base is important not only for Russia but Europe and NATO as well, as it is one of the greatest security protection mechanisms we have. This base helps us to foresee possible risks. Russia is spending significantly more on preserving security than the United States or NATO. Maintaining our naval base means at least maintaining the setup formed long ago. In his first three months in office Ukrainian President Viktor Yanukovich has made good on his campaign pledge to conduct a more friendly policy toward Russia than his predecessor, working swiftly to end the bitter disputes that arose under the Western-leaning Viktor Yushchenko," Medvedev told RIA Novosti.
NATO's possible expansion is strictly unacceptable for Russia, Medvedev said. "The disappearance of the Warsaw Pact at the beginning of the nineties, while NATO continues to exist, has disturbed the balance of Europe. Many armed conflicts have their roots in that period. We are always extremely careful about security issues, which is why NATO's possible expansion is unacceptable for us. We have partnership relations with this organisation, but it is a military bloc we are not a member of, and the closer it comes to our borders the more discomfort this creates for us," Medvedev said.
Analyst Giorgi Khutsishvili has told
The Messenger
, "Such statements from members of the Russian Government cannot be reliable - just remember the August war. The Russian Black Sea Fleet might be dangerous for neighbouring countries, which is why international guarantees in this direction are very much needed. This kind of international mechanism exists, but it is not effective enough," Khutsishvili said.
Fellow analyst Gia Khukhashvili added that this fleet might be there for some other reason than conducting a possible attack on neighbouring countries. "I do not think the Russians might use their Black Sea Fleet to conduct aggression against Georgia or some other neighboring nation. Russia does not need to use such wide ranging forces to undertake an aggression against neighbouring countries, as we saw during the August war. In the present political configuration talk of some kind of military threat is exaggeration and nothing more. Furthermore it is not news that Russia is against NATO expansion. When some country wants to be the first, it will be irritated by another side approaching its borders. This statement has indirectly affected NATO's decision on Georgia's application, and is the reason why it has effectively stalled," Khukhashvili told
The Messenger
.