Turkish Prime Minister visits Georgia
By Salome Modebadze
Wednesday, May 19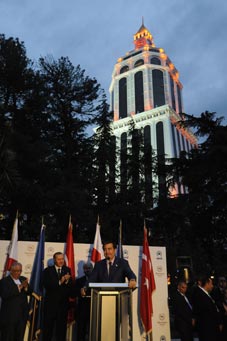 Turkish Prime Minister Recep Tayyip Erdogan paid a one-day visit to Georgia on May 17.
At a meeting in Batumi President of Georgia Mikheil Saakashvili and his special guest shared their approach towards future cooperation between the two countries with local residents. "Georgia cooperates with various countries but relations between Turkey and Georgia have been an example for the whole of Europe. I have never heard of anyone ever resolving so many issues in such a space of time and have such efficient cooperation as the Governments of our two countries have," Saakashvili said, highlighting the contribution of the Turkish Prime Minister in encouraging relations with Georgia.
President Saakashvili called the new Sheraton Hotel in Batumi, financed by Turkish investment, a brilliant symbol of this relationship and cooperation. The hotel was designed by a Turk of Georgian origin, who Saakashvili said has done a great thing for Georgia by visiting the country and promising a bright future to the Georgian people.
"Georgia is the first country in Eastern and Central Europe and eleventh in the world at attracting investments according to the World Bank. The Georgian economy is growing rapidly despite the [August] war and the global crisis. We are trying to catch up with the Turkish economy, the indicators of which are increasing daily. These figures are so important for our country, as the Turkish Government thus proves how strong it is in dealing with any kind of crisis and gives its country an opportunity to create and promote higher standards for the whole region. [As an example of our co-operation] we are now uniting our border operations so that people can move from one country to another without foreign passports," Saakashvili said, encouraging the Turkish business sector to make investments in Georgia.
The President of Georgia thanked the Turkish Prime Minister for his contribution to the Iranian nuclear agreement and called it "a diplomatic heroism, which will go down in history". The agreement, which will send low-enriched uranium to Turkey in exchange for nuclear fuel for an Iranian nuclear reactor, should define the fates of all countries in Europe and the region.
PM Erdogan had arrived in Batumi after negotiations in Tehran over the Iranian Nuclear Programme. "This is a question of life and death for small countries. Erdogan said that there was a chance of reaching an agreement on the nuclear programme but no one believed him. He visited Tehran and saved [the deal on] the programme, which is a diplomatic victory for Iran, Europe, the US, Turkey and Georgia. Recep Tayyip Erdogan should have gained the world's respect by taking this unique step, but today we are standing here as a symbol of the unity, cooperation and welfare of our nations as Turkey is doing so much for Georgia and the whole region," Saakashvili said, awarding the Turkish PM the Order of the Golden Fleece for his contribution to the development of bilaterial relations. Saakashvili also expressed hope that Batumi would become a symbol of Georgian unity, as it is the home of various ethnic groups practising different religions.
"It's a great honour for me to receive this award today. This visit to such a wonderful seaside town has made a great impression on me. I had been to Batumi before, but I can say that the development of this town is important not only for Georgia but the whole Black Sea region," Turkish Prime Minister Recep Tayyip Erdogan said in response.
Analyst Gia Khukhashvili told
The Messenger
, "Relations between Georgia and Turkey can be discussed in both positive and negative terms. Turkey's engagement in Georgia's development through investments is a definitely plus but the fact that the whole Adjaran economy is in Turkey's possession means it has established a monopoly in the region. I can't see the point of having Batumi Airport (a joint Georgian-Turkish airport on Georgian territory) serve internal Turkish flights. All these things may have a negative impact [on our country] as this problematic region may become the subject of changeable political manipulations by the side with the economic lever. That's why the Government should always try to cooperate with several different companies or countries to avoid any further complications," Khukhashvili stated.
The Georgian Ministry of Foreign Affairs called the visit of the Turkish PM "a high ranking visit" as Turkey is "our strategic and number one trading partner". Nino Kalandadze, Georgian Deputy Foreign Minister, said that despite the many sceptical assessments from outside that there is no favourable [investment] climate in Georgia and Georgia poses a threat, the fact that a country like Turkey is carrying out very serious investments in various regions of Georgia is very important. Zurab Pololikashvili, Minister of Economic Development of Georgia, and Gia Baramidze, Vice Prime Minister, expressed their admiration for the Turkish PM's visit and their hope that it would bring specific results.