Georgia's EU integration – has progress been made?
By Gvantsa Gabekhadze
Thursday, May 20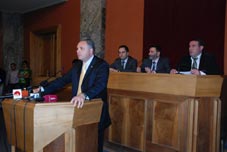 Vice-Prime Minister of Georgia and State Minister for Euro-Atlantic Integration, Giorgi Baramidze made a report in Parliament on May 19, in which he spoke on the process of negotiations with the European Union regarding free trade relations, EU association and the implementation of the EU neighbourhood policy plans. Three parliamentary committees, the Committee of European Integration, Foreign Relations Committee and the Committee of Diaspora affairs, listened to the State Minister's speech.
"The process of Georgia's integration into the EU will last for many years. We'll keep on cooperating for the development of democracy; the involvement of the EU in the election monitoring process is also very important for conducting elections which meet European standards. Negotiations on visa regime simplification are nearly completed. The active participation of the EU in conducting dialogue with Russia and support of Georgia's sovereignty and territorial integrity is very much needed and important for us. The present Georgian authority is doing its best for more approach with Euro-Atlantic structures, however much remains to be done in this direction," Baramidze stated. The State minister also voiced information about Georgian citizens in France. "We are holding negotiations with French representatives, which will conclude on May 20, concerning our citizens' legal employment in France. These negotiations are being held within the framework of the programme Partnership for Mobility. Should the negotiations be completed successfully, Georgian citizens in France will be able to be employed in legal jobs and earn a legal salary. One detail of the negotiations is that those people must return to Georgia in 4-5 years, which will be positively reflected on our demographic situation," Baramidze said.
The majority of the representatives estimated Georgia's relations with Euro-Atlantic structures positively. "Positive and effective moves for coming close to European structures are visible. Our way is the European way and we are going in this direction. A memorandum on visa simplification will be signed this summer, which is a very serious step forward for Georgian citizens, as well as for more significant contact with the Europe," said MP Davit Darchiashvili.
However the situation described by officials and their positive statements have not been shared by Georgian oppositional directions nor analysts, "Georgia really had a significant chance of integration with European structures; however this possibility was annihilated by the Present Authority especially by the August war in 2008. Everything that the present officials state concerning positive moves for Georgia's reintegration in Euro-Atlantic space is far from reality. Georgia will manage to fulfill European demands only after this Government is replaced and truly democratic and reliable forces come to power," Manana Nachkebia, from Alliance for Georgia told the Messenger.
Analyst Soso Tsiskarishvili agreed with Baramidze that really much is to be done in this direction as too little has been done for Georgia's integration in Euro-Atlantic structures, "The Georgian authorities' statements are as if we are coming close to Euro-Atlantic structures – they surprises me. Selling what is desired as reality has become a habit of our officials. Lately, European leaders and partners' statements towards Georgia have been significantly strong and demanding. Europe is tired with waiting. For years European leaders have been waiting for us to fulfill their demands on the Labour code, Anti monopoly service, migration and so on, without any effective outcomes. Why does our government think that Europe can not see and foresee completely forgets fulfilling any demand or promise. Georgian authority can not clarify what it wants. When our officials delivered every economic lever to Russia, it has turned difficult for them and for the country to choose one, definite, political vector. So I agree with the authorities that really there is much to be done in this direction, as almost nothing effective has been done by the present government for Georgia's integration in Euro-Atlantic structures," Tsiskarishvili told the
Messenger
.