Georgian National Museum
Friday, May 21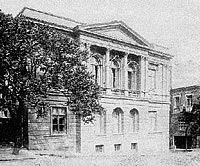 Georgia is a country of ancient culture which has developed through ages. The ancient cultural inheritances are being carefully kept at the museums throughout the country among which the Georgian National Museum (GNM) serves as the union for the variety of cultural skills which have made Georgia famous worldwide. The GNM was established at the end of 2004 by a Presidential decree. Its origin, however, dates back to the founding of the Museum of the Caucasian Department of the Russian Royal Geographic Society in 1852. Several museums, galleries, house-museums, scientific centres and depots are part of the GNM.
The establishment of the Georgian National Museum was considered to be the beginning of the structural, institutional and legal reforms in the field of cultural heritage. The reforms envisage introducing modern management systems and establishing a homogeneous administration. A coherent museum policy will be elaborated, the safety conditions of preserved collections will be improved, education policy in the museum field will be strengthened and academic and museum activities will be co-ordinated.
GNM's vision is of a world class museum service that conducts scientific research, informs, educates and inspires the public and plays an important role in the development of tourism. Its mission is to research, preserve, interpret and make accessible to all the past and present of Georgia, other nations and cultures and the natural world. Its values are to invest in people and develop potential i.e. enable its employees to realise their full potential and invest in their training and development to achieve this, demonstrate excellence by pursuing excellence in all that the staff does in order to provide a high quality service to visitors and other users, to be committed to innovation and continuous improvement by encouraging boldness and innovation and supporting the continual improvement of services and to provide inspiration, education and enjoyment by ensuring that all its activities and services provide inspiration, education and enjoyment for everyone.
The GNM provides accessible, exciting and appealing activities for all visitors; progress through partnership by working in partnership with other museums, organisations and stakeholders in order to realise the full potential of its collections and its contribution as a national organisation and encourage effective working and mutual respect to ensure fair, equal and respectful treatment for all employees and visitors. It will also enable its employees to work effectively in teams, fostering honest and open communication and actions across the organisation.