Energy Invest Head detained
By Gvantsa Gabekhadze
Friday, May 21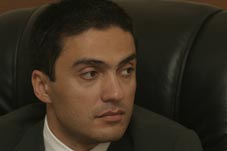 Geno Malazonia, Director General and President of Energy Invest (JSC) was detained by law enforcers, on charges of tax evasion and financial machinations, on May 19. Information concerning the vice president of the company, Koba Dimitrishvili, remains unclear.
According to Georgia's main Prosecutor's office, Malazonia was questioned late on May 19, after which he was detained. According to the office the JSC Chair will face four different charges - tax evasion, illegal business activities, swindling and abusing the duties of company head. These machinations inflicted 70 million GEL damage to the state budget. Controversial information is being spread about Dimitrishvili's whereabouts. A spokesman of the Prosecutor's Office stated that they did not know whether Dimitrishvili has been detained or not. Meanwhile, Nino Mdivani, the head of the press service of JSC Energy Invest said, "A meeting was held this morning in the enterprise, which was attended by law-enforcers, including employees of the Prosecutor's Office. During the meeting, Koba Dimitrishvili was taken out of the building. His whereabouts is unknown up to now."
Energy Invest, one of the largest investment companies in Georgia, aims to attract financial resources and carry out investment projects. JSC Energy Invest was set up by Russian and Georgian business groups in 2004, in 2005 the company Rustavi's Nitrogen factory. In January 2006 the company completed construction of the Gardabani Gas Turbine Power station. Energy Invest has been chaired by Malazonia since October 2004. This company head has a rather interesting past. Malazonia graduated Tbilisi State University and University of California in 1995-96; he spent 8 years in Banking, 5 years in the Government of Georgia holding positions: Deputy Chief of State Custom Department of Georgia (1999-2000), Advisor to the Minister of Economics, Industry and Trade of Georgia (2001), Chief of State Antimonopoly Services of Georgia (2001), Deputy Minister of Economics, Industry and Trade of Georgia (2001), Deputy Minister of State Property Management (2001-03), Deputy Minister of Education of Georgia / Finance and Economic (2003-04), Chief of Staff to the State Minister of Georgia (2004). He has been positively described by those people having contact with him and his arrest is unexpected by many company employees.
Malzonia has already met with his lawyers who have stated he is using the right of silence. "Only after we have acquainted ourselves with the case will we make our decision on how to act. Accusations are solely concerning Energy Invest's activities. At the present moment my client is using the right of silence," stated the detainee's Lawyer, Davit Khazhalia. No comments have been made by the Russian leadership of the company, as they have Russian citizenship they have not been questioned by the law enforcers.
Georgian analysts have refrained from making comments until the confirmation of blame. "At the present moment I cannot make a comment on his arrest, just wait whether the accusations are confirmed or not. What I can say is that Malazonia's arrest should not affect the company's activities, as the whole enterprise's appropriate working is significant for Georgia in post crisis period. As far as I know Energy Invest is one of the most serious contributors of tax to the state budget. Therefore it should not effect on the people working there," Davit Narmania, Analyst in Economics, told the
Messenger
.
Malazonia's detention will not affect the company's activities. At the time of going to press, information on Dimitrishvili's arrest has still not been confirmed by the law enforcers.