The internationally acclaimed pianist Giovanni Allevi in Tbilisi
Friday, May 21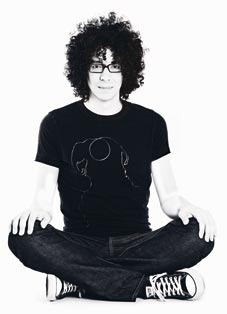 Giovanni Allevi, the internationally acclaimed pianist, composer and conductor, will play in Tbilisi in the prestigious State Conservatory "Vano Saradjishvili " on May 27, 2010, in celebration of the Italian National Day, in a concert, by invitation only, organized by the Embassy of Italy to Georgia. This performance is part of his "Solo Piano" tour, begun on March 19 at London's Queen Elizabeth's Hall, then continuing in Korea, China, Thailand, Japan and Italy. It is the first time for Giovanni Allevi to play in Georgia.
Besides graduating in piano and composition with top marks at Morlacchi Conservatory in Perugia and Verdi Conservatory in Milan, Maestro Allevi also holds a cum laude degree in Philosophy at Macerata University.
With his music he manages to create a synthesis between the classical tradition and contemporary pop and jazz idioms, he is at home both in the concert hall and the stadium.
Allevi's music seeks to be the mirror of today's multilayered, multiethnic society and to give voice to the "dangerous loneliness of the composer". He prizes the piano as a means of expression for its " closeness to the soul, to emotions and adrenaline".
Amongst the most recent of his many successful concerts and tours are the opening Concert of his US tour at the Carnegie Hall and the 1st of September Concert at the Arena of Verona, a historical event which was defined "the Woodstock of contemporary Classical Music": in this concert Giovanni Allevi conducted his symphonic music, played by the "All Stars Orchestra" (an orchestra of 90 musicians chosen from the world's best musical ensembles) in front of twelve thousand people.
Among his most famous releases 13 Fingers (1997), No Concept (2005), and Joy (2007).