Sweden will extend significant support to Georgia
By Gvantsa Gabekhadze
Monday, May 24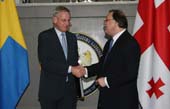 Carl Bildt, Minister of Foreign Affairs of Sweden, began an official visit to Georgia on May 22. He has already met Georgia's Foreign Minister Grigol Vashadze and discussed Georgian-Swedish relations and various Georgia-related political issues. A statement on the establishment of a Swedish Embassy in Georgia was also made.
Prior to the visit the Swedish Foreign Minister wrote on his blog that reforms in Georgia and relations with the European Union would be high on his discussion agenda. The situation in Georgia's breakaway regions will also be raised, although the issue will not be the focus of discussions, he wrote.
"A significant new stage in the relationship between Georgia and Sweden has begun. Very soon our representation in Georgia will be established. It is such a close relationship that it requires a more permanent and stronger diplomatic political presence from our side here in Tbilisi. We have been focusing not that much on the bilateral agenda as the European agenda, the pro-European reforms and democratisation that are Georgia's strategic direction. We are trying to support it in many different ways," Bildt said after his meeting with Vashadze, who commented that political and economic issues, collaboration in the energy sector and Georgia's integration process in the Euro-Atlantic space were discussed. "We also talked about Sweden's new strategy for 2010-2013 years and the Georgian-Swedish business forum scheduled for June. We have agreed to hold continual political consultations," Vashadze stated.
Georgian analysts have described the Swedish Foreign Minister's visit and his statement about opening an Embassy as extremely positive and profitable for Georgia's future development. "In 2007 the Group of Georgia's allies was established, in which the Baltic countries and some other sstates participated. In 2008 Sweden's position on Russia's aggression was very definite. Minister Bildt was one of the first to call Russia an aggressor and occupier. Sweden's position in the European Union is significant for Georgia, as it has expressed a positive attitude towards Georgia and will be our country's lobbyist there, while some EU member countries try to prevent the adoption of resolutions useful to Georgia. Sweden opening an Embassy in Georgia is also very significant, not only from the political viewpoint but the civil and economic viewpoints as well, as this is one of the most developed countries in Europe. A lot of Swedish grant programmes will be implemented in Georgia after the Embassy is opened," Nika Chitadze told
The Messenger
, adding that financing and assistance for NGOs will also increase. Exchange programmes for Georgian students will also be established, which will be also very important as Swedish Universities are among the most successful in the world, considered the equal of British and American ones.
The Minister was also due to meet with President of Georgia Mikheil Saakashvili, Prime Minister Nika Gilauri, Secretary of the Security Council Eka Tkeshelashvili, head of Intelligence Service Gela Bezhuashvili and opposition representatives during his visit. He will conclude the visit on May 24.