Airzena conducts direct charter flight to Moscow
By Mzia Kupunia
Tuesday, May 25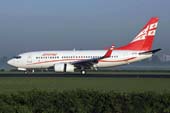 On Monday Georgian Air Company Airzena-Georgian Airways conducted the first direct charter flight to Moscow since Easter. The plane took off with 54 passengers, according to the Airzena Press Service head Nino Giorgobiani. She said most of the passengers were Georgian citizens who were visiting Moscow to meet relatives living there.
"We have permission [from the Russian Transport Ministry] to conduct direct charter flights till July 1. We hope that we will also be able to carry out flights in July, August and September," Giorgobiani told journalists. "This is the holiday period and many citizens of both countries will want to take direct flights to see their relatives," she added.
Airzena-Georgian Airways received permission to conduct direct charter flights between Tbilisi and Moscow from May 24 to July 1 last week, on its request. Direct air connection between Georgia and Russia was cut off in 2006, briefly restored in 2008 and then again suspended following the Georgia-Russia conflict of August 2008. However Georgian Airways conducted several direct charter flights between the capitals of the two countries during the New Year and Easter holidays in 2010.
The Georgian Foreign Ministry welcomed the restoration of direct charter flights between Tbilisi and Moscow. "Conducting such flights is welcomed by us, as it is in the interests of our citizens," Deputy Foreign Minister Nino Kalandadze said yesterday. However she pointed out that no restoration of regular flights is being discussed at present.
"Regular direct flights between Georgia and Russia will not happen until diplomatic ties are restored between the two countries," Kalandadze said at the traditional Monday press briefing. "The restoration of regular flights is only possible with the permission of the State. So it is impossible to resume regular flights while diplomatic ties with Russia are cut," the Deputy Minister said. She noted that the restoration of charter flights is up to private companies and that "the State does not interfere in this issue."
Russia has blamed Georgia for the suspension of regular direct flights between the two countries. Speaking at a press conference last week Andrey Nesterenko, the official representative of the Russian Foreign Ministry, said, "It would be better if the citizens of Georgia and Russia had an opportunity to have regular normal flights as envisaged in the inter-governmental agreement between Georgia and Russia signed in 1993." Nesterenko noted that "unfortunately Tbilisi does not show readiness to start talks about resuming regular flights."
Tbilisi puts the responsibility for suspending direct flights on Moscow. "It was not Georgia which stopped flights to the Russian Federation. We want all our citizens to have access to air transport," the Georgian Foreign Ministry said earlier.