Georgia deepens cooperation with Iran, despite objections
By Salome Modebadze
Tuesday, May 25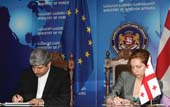 Minister of Foreign Affairs of Georgia Grigol Vashadze hosted Ramin Mehmanparast, Spokesman of the Ministry of Foreign Affairs of the Islamic Republic of Iran and member of its Council of Deputy Ministers, to discuss a variety of issues concerning cooperation between the two countries on May 22. "The visa regime between Georgia and Iran will soon be abolished. There will be an Iranian consulate in Batumi, so the previous flight regime is planned to be reinstated. Georgia is an important country in this region and it has a special place in the foreign policy of Iran, one of the strongest countries in the region which is ready to offer its potential to its friendly countries," Mehmanparast said at a special briefing.
Ramin Mehmanparast said that the Foreign Minister of Iran, Manouchehr Mottaki, is expected to visit Georgia in June this year and a joint Georgian-Iranian Governmental commission meeting would follow in Iran. "We are waiting for the Georgian Prime Minister [Nika Gilauri] to visit Iran and accompany the delegation for the joint commission," he explained.
Mehmanparast was visiting Tbilisi with a delegation of 15 members of leading mass media agencies in Iran, as direct cooperation between media representatives of the two countries was among the most burning issues to be discussed with Vashadze. Deputy Minister of Foreign Affairs of Georgia Nino Kalandadze and Ramin Mehmanparast signed a Memorandum of Understanding between Georgia and the Islamic Republic of Iran in the sphere of mass media.
"A new stage of relations between Georgia and Iran has been established and we hope these will become more intensive in future. Georgia is grateful to the Iranian Government for the sensible policy it leads towards Georgia, expressed in its unconditional support of the territorial unity and sovereignty of our country," Nino Kalandadze said, adding that the two countries have a long history of relations and the memorandum on media cooperation will fill a gap caused by a lack of information about each other.
"We have invited Nino Kalandadze and the Georgian media spectrum to the Iran. Deepening relations with Georgia is one of the priorities of Iran`s foreign policy in which the media may play an important role. Iran already has interesting cooperation with Georgia on political issues but we think we have to deepen cooperation in the economic field, especially the energy system and agriculture," Mehmanparast commented.
Analyst Gia Khukhashvili said that there were positive and negative aspects to the decision to introduce visa free travel to and from Iran, despite the EU's suspicion of this country, when such an arrangement with the EU was so desirable. "I doubt whether we ever had any difficulties with Iran before. I am not at all against such cooperation but I would still call this an impulsive step from the Government of Georgia. They have neglected the opinion of our so called "partner" countries who express their general mistrust of Iran's policy and economic and security systems," Khukhashvili said, explaining that these kind of relations with Iran may become dangerous for our country in a variety of ways as Iran doesn't meet international standards in the view of the developed countries Georgia is so motivated to join.
The Messenger
also asked well–known Georgian media figures to comment on the memorandum of understanding on exchanging media information. Journalist and media expert Ia Antadze said she was unaware of the details of the memorandum as she has been out of the country but in general, "It is so easy to exchange information between countries nowadays that I have never heard of such a thing as this before. Information is always available on the internet and anyone can get the information they need in their chosen language. I just wonder why the Government is interfering in the policy of the media outlets which are generally privately owned in our country," Antadze told us. Gia Chanturia, General Director of the Georgian Public Broadcaster, said he welcomed this cooperation. He said the two countries needed intensive cooperation in order to exchange document and video material about each other's history, culture and traditions and called this a needful and interesting step.
Meanwhile, at a conference of Iranian and Georgian media representatives on May 21, HE Majid Saber, the new Iranian Ambassador to Georgia, had said there was great potential to boost bilaterial cooperation in the energy sector and stressed that Iran aimed to invest in the construction of hydropower plants in Georgia and share its experience in wind energy development if desired. Commenting on US-Georgian relations, Saber reminded the audience of the energy crisis in Georgia in January 2006 which was followed by the blowing up of two gas pipelines in the North Caucasus. "Real friendship is demonstrated in hard times. There was no support from the US when you needed it most, while Iran expressed its readiness to provide Georgia with gas immediately," the Iranian Ambassador stated.