I love jazz, therefore I love Tbilisi
By Ana Datiashvili
Friday, May 28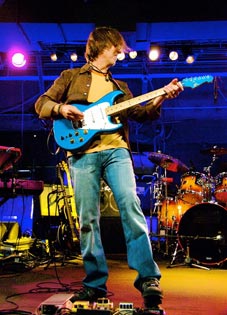 George Benson, Herbie Hancock, Al Jarreau, George Duke, Bill Evans, Kurt Elling, Richard Bona, Marcus Miller and John McLaughlin concerts have become part of Tbilisi's life. 15 years ago nobody would have believed that Georgia would become a place beloved by jazz gurus, but through the Tbilisi Jazz Festival, the Batumi Black Sea Jazz Festival and the endeavour of individual performers major jazz stars come here at least once a year.
On May 23 Tbilisi Event Hall and Eastern Promotion gave an original presentation of the forthcoming Black Sea Jazz Festival programme for festival supporters, sponsors and the media. The Dean Brown Trio, featuring Dennis Chambers and Bobby Sparks, gave an unforgettable concert in the Event Hall.
"Fantastic, this was one of our best concerts. Great public, thanks to all," said famous American jazz fusion guitarist Dean Brown after his 2 hour performance, all the encores demanded by his fans and the audience helping him perform the final piece.
Batumi is hosting the fourth Black Sea Jazz Festival on July 15-18. Misha Giorgadze, Director of Eastern Promotions, says that jazz fans will see 8 unforgettable concerts. "To promote the seaside season of Adjara and Batumi, we decided to hold the festival earlier than usual, in July," Giorgadze told
The Messenger
.
The Ministry of Culture and various Georgian companies are supporting and sponsoring the festival and according to Deputy Minister of Culture Mako Choghoshvili this year's will be special as Giorgi Mikadze and Beqa Gochiashvili, from the new generation of Georgian jazzmen, will be participating also. "This is the fourth year the Ministry of Culture has supported this festival, it is becoming a tradition, and it is a big honour for us to present such big stars in Batumi" stated Chogoshvili.
Hugh Masakela, The Brand New Heavies and other jazz stars will play in Batumi. The organisers say that not only the concerts but the parties afterwards will be memorable too. So all that is needed to make the summer is Batumi, jazz, the beach and the sun.