The US won't compromise Georgia
By Mzia Kupunia
Friday, May 28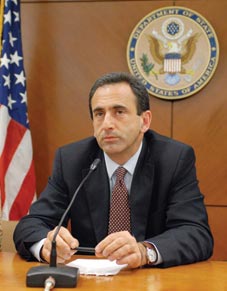 The United States will continue supporting Georgia's attempts to carry out democratic reforms, US Assistant Secretary of State for European and Eurasian Affairs Philip Gordon said at a reception at the Georgian Embassy in the United States dedicated to Georgia's Independence Day. US support is "very important" in ensuring continuing progress in Georgia, Gordon stated, according to Georgian media outlets.
The Assistant Secretary of State expressed the United States' support for Georgia's sovereignty and territorial integrity. He said that the US continues to work with its Georgian partners to regulate the Georgian-Russian conflict of August 2008. This support includes USD 1 billion in aid pledged by the US Government, Gordon noted.
Speaking to
Imedi TV
journalists the Assistant Secretary of State noted that the "reset policy" towards Russia will not be undertaken at the cost of "sacrificing" the interests of the USA and its "friends". He noted that when President Obama announced the resetting of relations with Russia he "clearly" defined that it would not happen at the expense of the US's friends. "We stand with Georgia," Gordon told Georgian journalists in Washington. The United States has improved relations with Russia, "However we remain Georgia's friends", he added.
The Assistant Secretary of State said he will be leading the US delegation to Geneva next week. The Georgian media reported that Gordon will raise the issue of deploying international monitors in Georgia's breakaway regions of Abkhazia and South Ossetia. Gordon said that during the Geneva talks the US side will once more reiterate its "uncompromised support" for Georgia.
US support for Georgia has not decreased, Georgian Ambassador to the USA Batu Kutelia said. "On the contrary, it has moved to a new stage and is developing in an upfront and planned manner. The words of Philip Gordon also prove this. The people who attended the reception on Georgia's Independence Day work on Georgian issues every day and contribute to the strengthening of the Georgian-US strategic partnership," Kutelia told journalists.
The Georgian Foreign Ministry meanwhile has called US-Georgian relations "exemplary". Commenting on the Independence Day congratulations of US Secretary of State Hillary Clinton, Georgian Foreign Minister Grigol Vashadze said, "This was the congratulation of a strategic partner for a strategic partner." Vashadze pointed out "the message indicates that the two countries continue to strengthen relations." "For the United States the territorial integrity, sovereignty and independence of Georgia will never be in doubt and the US will fight for Georgia's de-occupation together with Georgia," Vashadze said.