National Movement members vote for bright future
By Messenger Staff
Monday, May 31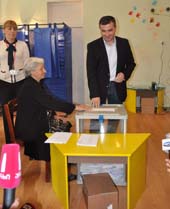 One of the first National Movement members to vote was incumbent Tbilisi Mayor Gigi Ugulava who came to the polling station with his children. Ugulava called the Mayoral elections historic and said that the voting process would be transparent and fair.
"The May 30 elections are very important for the residents of Tbilisi, as they are electing the Mayor of the city directly for the first time in the history of Georgia", Ugulava said. "I am sure voter turnout will be high as this really is a historic moment for Tbilisi," Ugulava told journalists after casting his ballot in one of Tbilisi's polling stations.
Gigi Ugulava did not rule out that theoretically any opposition candidate could win the Mayoral elections. "Of course we are fighting for victory in these elections, but it will not be hard for me to acknowledge my defeat and congratulate the winner [if someone else is elected] because this is the standard we should establish in our country", Ugulava said.
The ruling party candidate named the problems that had not been solved in the past five years as his main opponents. He said that unemployment was one of these. Ugulava thanked all the parties participating in the elections, saying the election campaign was very different and businesslike.
Davit Bakradze, Chair of the Georgian Parliament, appealed to voters to come to the polling stations and spoke about the significance of democratic and free elections. "It is important that the elections be held in a quiet, fair and democratic way. I call on the people to vote. I support the strengthening of the Georgian nation state and democracy. I ask all voters to support a better future by voting in the elections," Bakradze said.
PM Nika Gilauri stated that he had voted for the reconstruction of the country and expressed his hope that there would be a peaceful conclusion to the elections and a high turnout. "This is a historic day today, as residents of Tbilisi are voting for their Mayor in the first direct elections for this post. Therefore I hope voter activity will be high. It is very good that the voting process throughout Georgia is proceeding quite calmly," Gilauri said.