ICC Georgia supporting exports
By Messenger Staff
Monday, May 31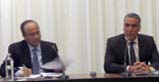 Over the past 5 years the Government of Georgia has done much to bring the country to the elite level, which very few countries are members of, in terms of business-friendly environment. Georgia finds itself today like an island in the middle of an ocean of neighbouring countries where protectionism is still the rule of the game.
Georgia is open to any investor but most of the neighbouring countries are not open to Georgian businesses. How can our businesses develop and expand with little access to the 300 million consumers we always talk about? Can Georgia survive such unfair competition in the long term? ICC organised a debate on these issues on May 28, in which Dr. Asad Alam, the World Bank's Country Director for the South Caucasus and Mr, Fady Asly, Chairman ICC-Georgia took part.
President of ICC Georgia Fady Asly highlighted that Georgia has opened its doors for foreign investors and welcomes them to conduct business in Georgia by offering the most favourable conditions but Georgian businesses do not find the same situation in neighbouring countries when attempting to enter their markets. ICC Georgia wants to activate different levers to encourage Georgian businessmen to invest in neighbouring countries and start doing business there.
Economic Consul of the Azeri Embassy Shovgi Mehdizade, who attended the meeting, expressed the willingness of his Embassy to resolve any awkward situation through negotiation and pay extra attention to the demands of Georgian businessmen. Consequently the Heidelberg Cement representative in Georgia expressed a wish to meet the Azeri authorities.
The discussion was very useful, showing the determination of ICC Georgia to help its member companies in different ways.