Kiev says it will not recognise Abkhazia and South Ossetia
By Mzia Kupunia
Tuesday, June 1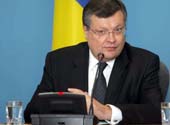 Kiev is not going to recognise Georgia's breakaway regions of Abkhazia and South Ossetia as independent states, Ukrainian Foreign Minister Konstantine Grishchenko has said in an interview with newspaper 2000 Kiev. He was answering a journalist's question about whether Russia was pressurising Ukraine over this.
"This is a complicated issue for Russia. Moscow has never said that it is important to The Kremlin that a large number of states join it in recognising [Abkhazia and South Ossetia]," the Ukrainian Foreign Minister said "Meanwhile it is clear for us that as we do not recognise Kosovo as an independent entity we cannot recognise Abkhazia and South Ossetia as independent states," Grishchenko stated.
The Foreign Minister said that time will show whether Abkhazia and South Ossetia can exist as independent entities. "Regardless of our recognition or non-recognition these entities will carry on existing. Time will show if they are able to survive on their own," the Minister noted, "and according to this relations with the international community will develop. I think we should not be activists regarding this," Grishchenko added.
Grishchenko's statement defuses statements made previously by the President of Ukraine. Last April Viktor Yanukovich repeatedly hinted at the possibility of recognising Abkhazia and South Ossetia as independent states. "Ukraine is ready to support the equality of values and democratic rights of the people living in frozen conflict areas," Yanukovich said in Strasbourg on April 27 when asked whether Ukraine could one day recognise Abkhazia and South Ossetia. "We are categorically against the use of double standards on this issue. The time has come to consider the criteria for granting independence and to work out approaches towards resolving frozen conflicts," Itar-Tass quoted him as saying.
Yanukovich had also said that he might recognise Georgia's breakaway regions in March, stressing the "inadmissibility" of double standards by referring to Kosovo. "It was already obvious back then that frozen conflicts would only get worse. Another perfect example is South Ossetia," the Ukrainian President stated, according to RIA Novosti. "It's my view that we must yet again underline that international law should apply to all without exceptions," he went on, although saying that the recognition of South Ossetia and Abkhazia was "not currently on the agenda."
Allegations that Ukraine might recognise Georgia's breakaway regions were made immediately after Victor Yanukovich was elected its President on January 17. However Georgian officials denied that this would happen, saying that "no matter who the leader of Ukraine is, Kiev will never raise the issue of recognising Georgia's breakaway regions as independent." "Ukraine is a democratic state and respects the territorial integrity and sovereignty of other states," Georgian Deputy Foreign Minister, Nino Kalandadze said. "We do not want to believe that this issue will ever be raised by official Kiev," she added.